Last week Mum & I were invited to be guinea pigs for a new series of classes my boss is hosting in her beautiful shop Gill & McColl in Polperro.
So yes, this is a review for my boss who I adore and who ultimatley pays my bills. I guess it's gonna appear biased however we look at it so I'm just gonna show you what we did, what we learnt, what we came away with and leave you to make up your own minds on whether it's great value for money!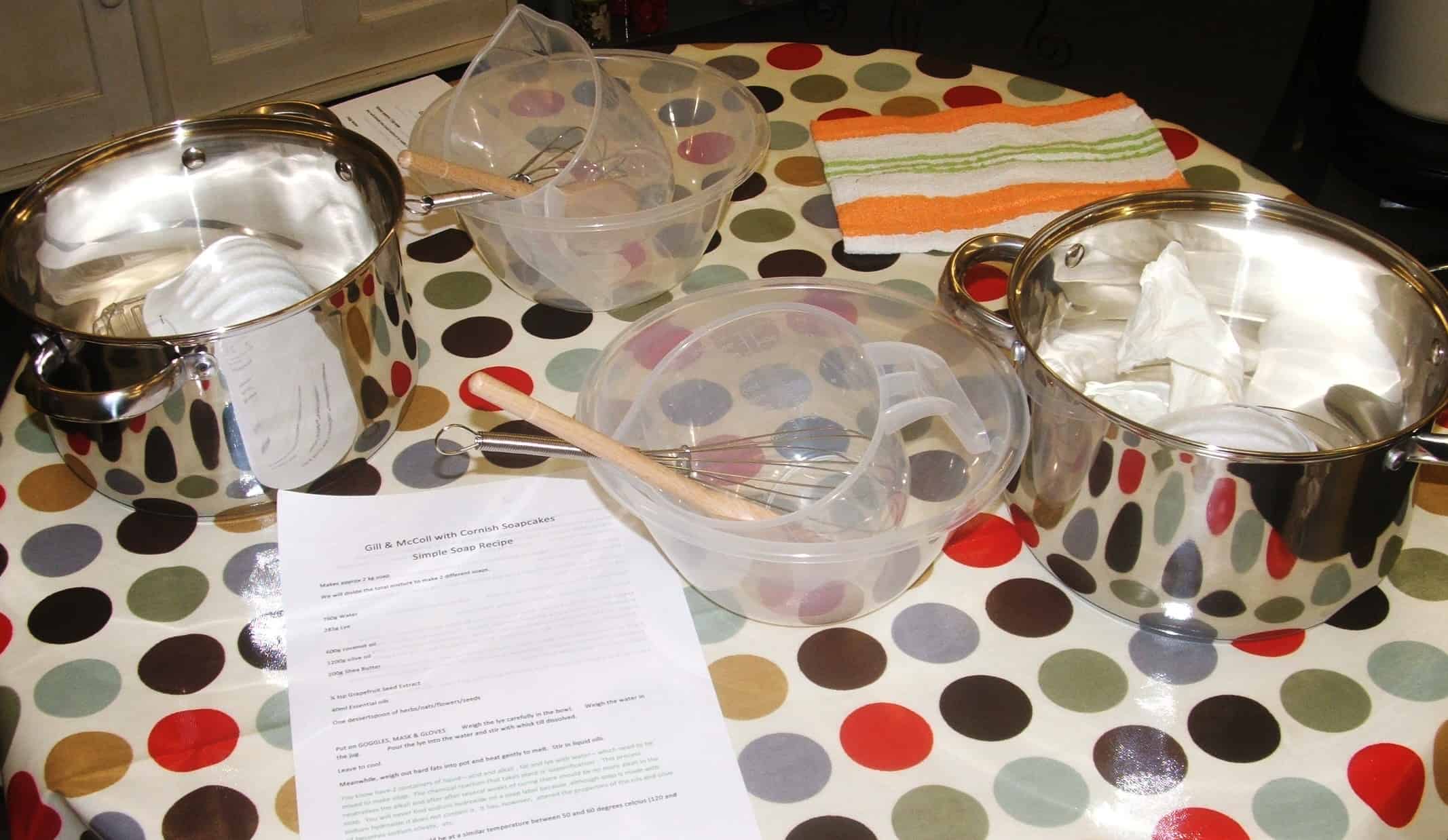 I've always been put off soap making because of the need for safety equipment. I could never understand why you'd want to use harsh stuff in soap. Answer to that my friends is that a/there is no other way to make that bubbly, soft thing we know as as soap and b/the harsh stuff (Caustic Soda) does some weird chemical reaction type thing and morphs into something totally non harsh (err, soap) so there is no nasty stuff left by the time you come to climb in the shower with a bar.
If only I'd kept reading the book I might have got to that bit.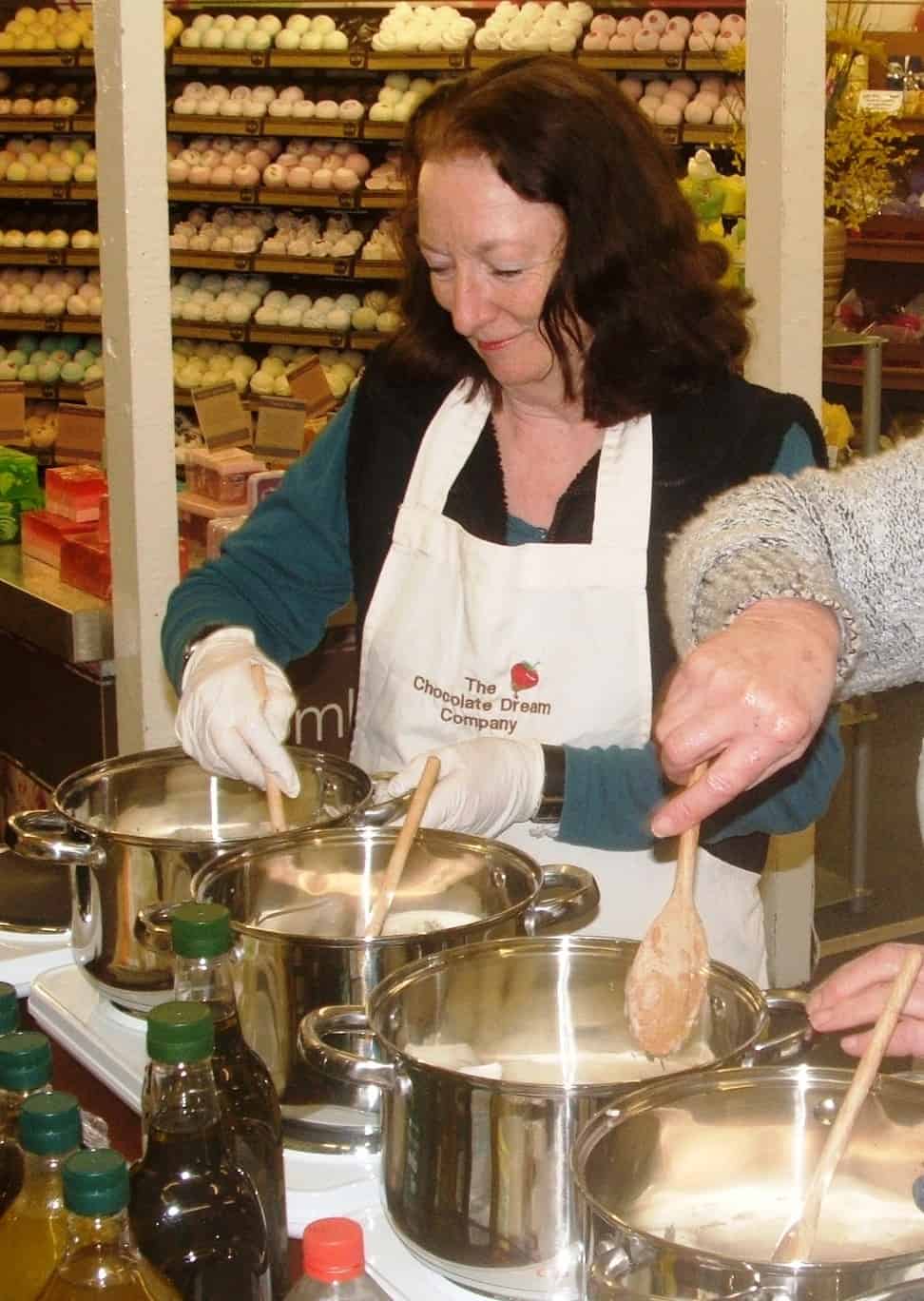 This is my beautiful mum melting her fats (Coconut, olive and shea to be precise)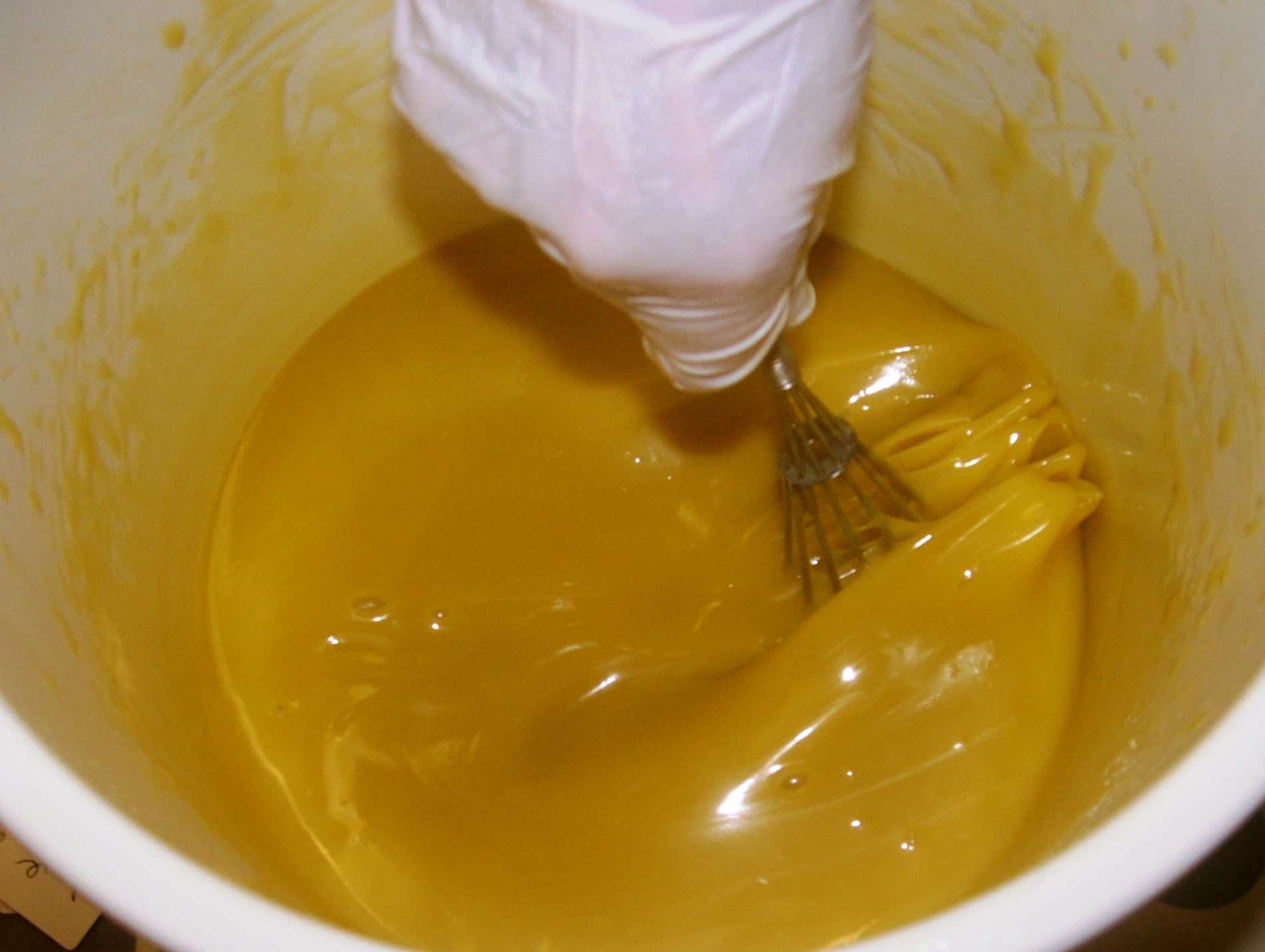 This is the bit where the magic happens, whisking a big tub of wet stuff into something with trace. Yeah see, I know all the lingo now.
When this moment is reached you can step away from the whisk and pour gloop into moulds adding smellies and bits for your bathing pleasure.
Here's ma modelling her first batch with added Lavender oil and buds, pretty innit? Her second batch had Rosemary and rose petals. This we have to store now for 4-6 weeks until every teeny bit of the caustic element has gone. Clever eh?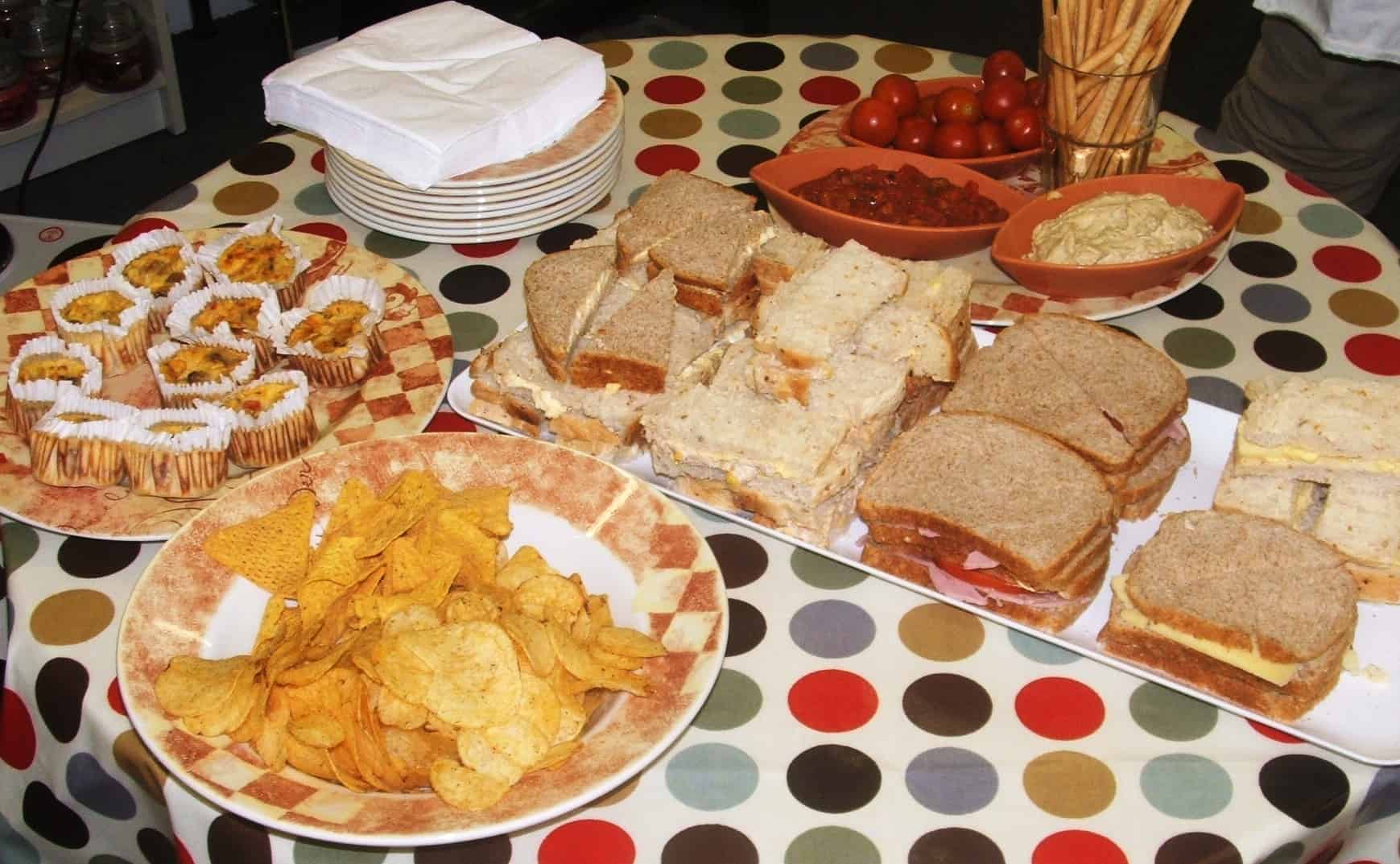 Oh, and there was food. And Cake. And wine. Hmmm.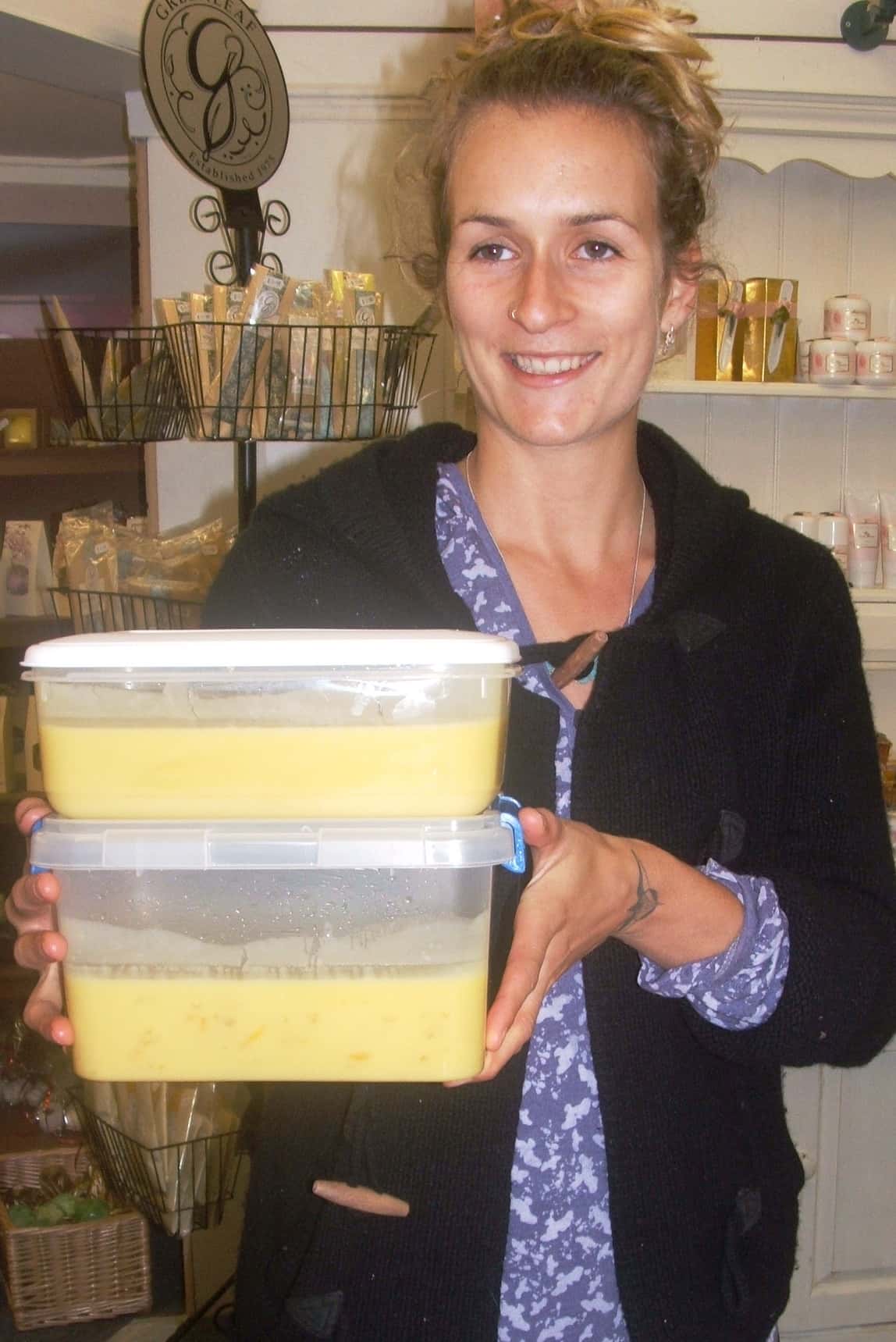 This is Beth (another beautiful Guinea Pig) with her 2 batches of finished soap. We worked out the retail price of this amount of soap was around £75 (which was the cost of the workshop).
Lastly we got to play with pretty stuff. Tonnes of ribbons, flowers, gift boxes, sparkly things and cookie cutters were available with a big box of soap pieces for us to dive into and get creative. I actually made 2 birthday presents there & then!
So, my truly unbiased self says this was a great night. We met some lovely ladies, had lots of laughs and came away with way more than I expected in terms of knowledge, experience and product. The class is based in an actual soap shop so you're surrounded by inspiration and ideas. My fear of caustic soda has gone and mum & I are going to use the same recipe to make a heap of Christmas presents later in the year.
If you're interested in making all your Christmas presents in one fell swoop then the next class is on April 6th from 6-9pm in Polperro, Cornwall. Call Maz on 01503 272986 for more info xx
PS I can't wait until the candle making class, Ma and I are booked on that as proper paying punters so just wait for that review ;o)