I need to 'fess up. I'm a food blogger, that doesn't eat steak. Or rare meat. Or any meat that doesn't fall off the bone after being tickled with a fork.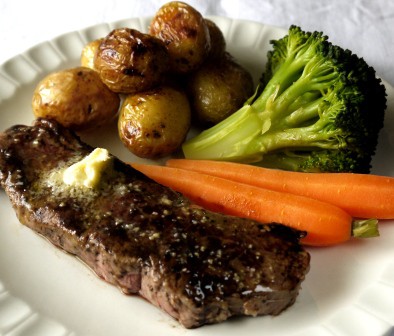 However, when Heggies of Hereford sent me a mixed box of meat to review, I thought it a little rude to chop up a pack of Sirloin Steak and throw in the slow cooker.
So I decided, like the grown up I am, to cook and eat a steak like normal people do.
I peppered them well and cooked them in a very hot, cast iron frying pan. I went for 4 minutes each side for mine, but left Jon's for 7 minutes each side (he did ask for his incinerated).
Once out of the pan, I slathered on a mound of garlic butter and let it rest for a few minutes, which happily coincided with getting the camera out.
And then I bravely tasted a little corner, expecting to run back into the kitchen and cook it 'properly'. However, the first bite didn't taste all that bad. And the second even better. Suddenly, the whole thing was gone and the pink juices left on my plate made me realise that perhaps I do like steak after all. In fact, I'd go as far as to say, I loved it!
Neither my pink (medium rare?) nor Jon's well done steak were chewy, just juicy, sweet and surprisingly tender.
To all Heggies, especially Farmer R Thomas who apparently was responsible for the cow I ate, thank you for inspiring me to try a food I didn't think I liked!