I'm off on a crazy exciting foodie road trip around Wales throughout May, and a few of my favourite bloggy friends have stepped in to fill the void in my absence. Vanesther from Bangers and Mash is sharing today with her school dinner inspired Posh Prunes with Custard!
I handed Vanesther my virtual tiara earlier this year when she won the 2015 Best Food Blogger in the Food Reader Awards, a title she whole heartedly deserves. Her blog is full of family friendly recipes and she shares lots of tips on getting life, kitchen and budget back under control by getting organised and meal planning.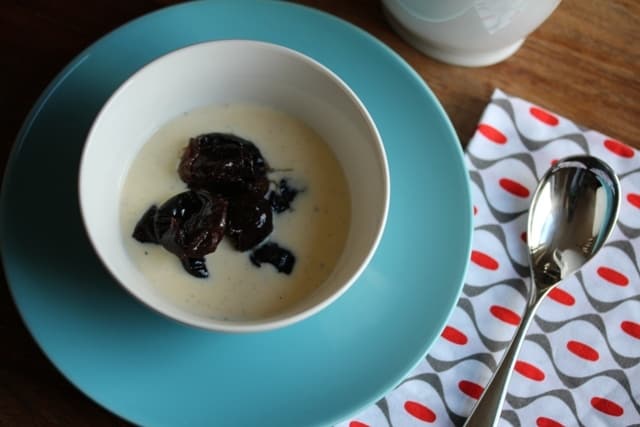 So many people have hideous memories of their school dinners, but I have rather fond memories of mine. I really enjoyed all those traditional meat-and-two-veg-style meals my Mum didn't generally cook at home, always with that dubious, round scoop of mashed potato plonked on the side.
I was a recipient of free school meals too, and the fact I was getting these for free wasn't lost on me. I was usually slightly embarrassed about not being made to handover my dinner money each week, but there were enough of us in the same boat that I didn't feel too much of a social leper.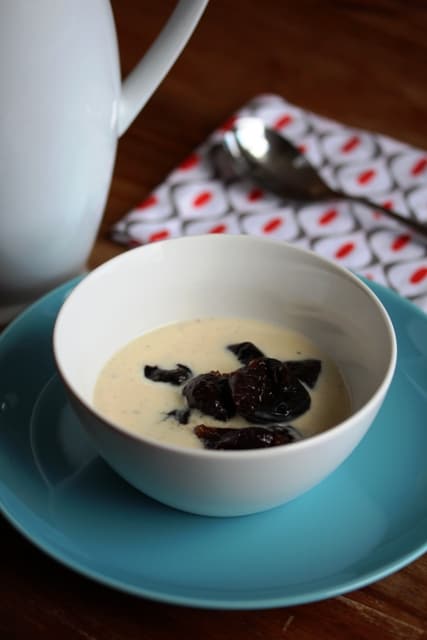 The puddings especially were a real treat – again at home we didn't have puddings all that often. All those stodgy sponge puddings with different coloured custards. I was always rather excited when we had chocolate sponge cake with pink custard, although I'd always have to give the custard a really good mix to get rid of that disgusting skin on top. The rice pudding, however, I couldn't stand. The experience has been enough to put me off for life. It didn't help that Bryce, the boy I always sat opposite at lunchtimes (we always sat on the same table with the same people when I was at primary school) used to tell me horror stories about where the rice in the rice pudding really came from. I'll spare you the detail.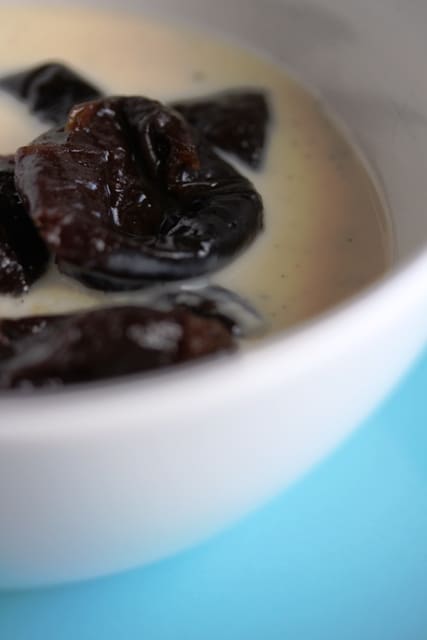 But my all-time favourite school dinner pud had to be prunes in custard. It was never all that popular with my friends, but that was cool as I got to dig into theirs too. I loved the warm, syrupy-sweet prunes swimming in bright yellow fake custard. It was just so comforting and reassuring.
I tried my own version of posh prunes in custard the other day on my children to see if they would love it as much as I did. I can't say they were all that impressed, although they didn't clear their bowls. I think I've spoiled them with too many fancy puddings and desserts over the years, that something so simple doesn't hold much appeal.
But personally, I was in heaven. Slightly chewy, soft-toffee-like prunes in a heavenly sweet and spicy warm syrup, with a faint hint of rosewater, swimming in a rich, creamy homemade vanilla custard. Just wonderful.
So I will be making these spicy, stewed prunes again, although it might just be me eating them. It'll be just like being back at school again, when I get to eat everyone else's helping. Although I might actually switch it to a breakfast dish, minus the custard and a big fat dollop of Greek yoghurt instead. I share the recipe with you, just on the off chance you might like them too.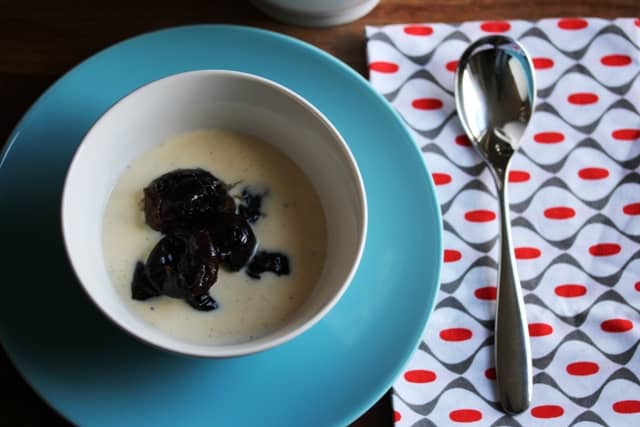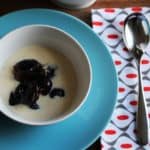 Posh Prunes with Custard
Ingredients
For the prunes
500

ml

water

100

g

caster sugar

1

stick cinnamon

a few strips lemon rind

juice of half a lemon

½

tsp

rosewater

250

g

pitted prunes
For the custard
6

egg yolks

45

g

caster sugar

500

ml

full fat milk

1

vanilla pod
Instructions
Pour the water into a large saucepan, add the sugar and place over a medium heat. Stir until the sugar has dissolved, and then add the cinnamon stick, lemon rind, lemon juice and rosewater.

Lower the heat and simmer the spiced sugar syrup gently for 10 minutes.

Add the prunes to the syrup and cook gently for 15 minutes.

To make the custard, whisk the egg yolks and sugar together until they are pale and thick.

Pour the milk into a medium saucepan and place over a medium heat. Slit the vanilla pod lengthways and add to the milk. Stirring occasionally, heat the milk to simmering point and then remove from the heat.

Pour the whisked eggs into the hot milk and whisk together gently. Place the pan back on a low heat and keep stirring until the custard has thickened. The custard should coat the back of a wooden spoon when it is done.

Remove the vanilla pod and pour the custard into serving bowls, topped with warm prunes and a spoonful of syrup.