Next time you have a glut of bananas in need of using up, try this muffin recipe out.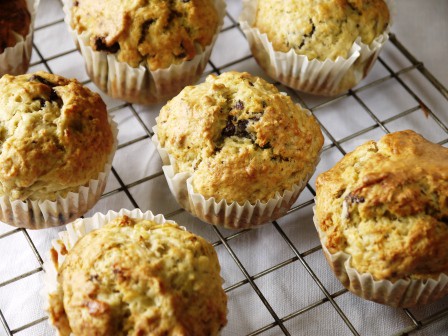 The riper the bananas are, the better. Yep, even those gooey brown ones that you'd normally throw out.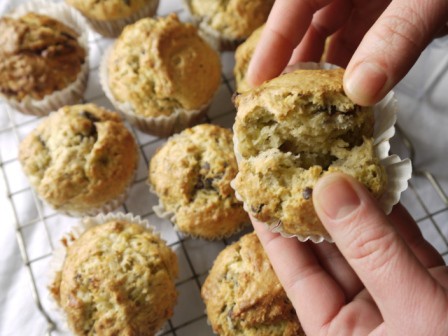 The muffins freeze perfectly. Just take one out of the freezer in the morning, and pop in the lunch box still frozen. By lunch time it will be defrosted, and it'll keep everything else in the box cool too.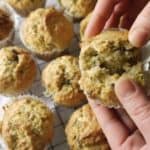 Packed Lunch Recipes ~ Banana Choc Chip Muffins
Ingredients
280

g

plain flour

1

teaspoon

baking powder

1

teaspoon

bicarb of soda

baking soda

1/2

teaspoon

salt

3

large

ripe bananas

75

g

sugar

1

egg

90

ml

water

90

ml

vegetable oil

110

g

plain choc chips or chunks

I chopped up a bar of dark chocolate
Instructions
Preheat oven to 190/170fan/375/gas 5. Line a muffin tray with paper or silicone muffin cases.

Sift the flour, baking powder, bicarb and salt into a large mixing bowl and add the chocolate.

In a jug, measure out the oil and water, then crack an egg in and beat well.

Peel the 3 bananas and 'mush' into the jug. I squeeze them through my hands but you could use a fork or potato masher.

Pour the wet ingredients into the dry, and quickly combine the two. Spoon into the waiting cases and bake for 20-25 minutes until they are browned on top and spring back when pressed.

Let cool before storing in tubs or freezer bags and freezing.