The #OrganicUnboxed challenge is a fun campaign showing us how easy it is to switch over elements of our shopping list to organic without it costing a whole lot more.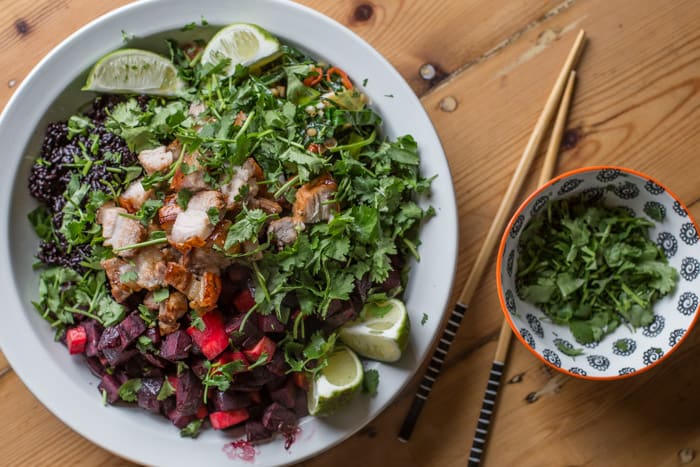 I LOVED doing the #OrganicUnboxed challenge! A huge box of organic goodies landed on my doorstep, and I had to come up with a tasty meal using a selection of the contents. First of all, have a peep at what my mystery box contained…
WARNING!
*Please do excuse the rabid excitement in the following video, but you must understand that this is my most perfect gift – a surprise box of quality FOOD! #HappyJanie :)
**Please also excuse the poor sound quality, in our haste to get into the box Jonny filmed me on my phone. We won't be doing that again!
So, the pork belly slices really caught my eye. Funnily enough, whenever I have my recipe creating head on, I always start with the protein and build the rest of the meal around it. Does anyone else do that? Also by planning my dishes around the meat or fish I can plan for any leftovers so there is never any wastage. Wasting meat or fish is like the ultimate sin in my kitchen.
I am happy to spend a little more to ensure I am buying top quality meats, and organic pork and chicken are a must for me. Did you know that to be labelled organic, the animals have to have a lived a free-range life? If you've ever seen a chicken chase a bug through long grass, or get down and dirty in a dust-bath,  I swear you would never be able to eat chicken that was raised in a crowded barn of filth, or eat eggs laid by a hen that has spent her entire life behind bars in a tiny cage again. Whenever did this level of 'farming' become acceptable anyway?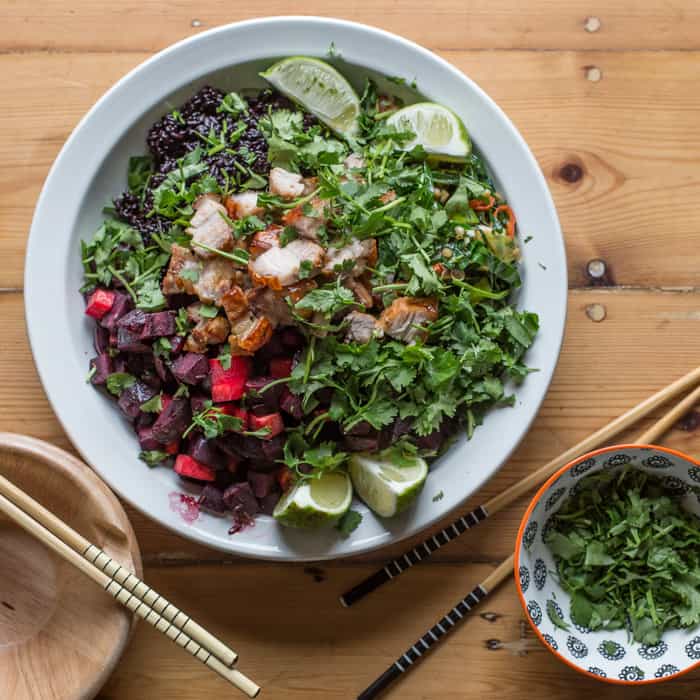 So, without further ado, here is the recipe I conjured up with those tasty organic morsels. I swear I could eat that pork every single day and never get bored of it!
Once again Organic UK has inspired me to look further into the products I choose to buy and therefore eat. I don't use pesticides, fungicides or herbicides on my veggie patch on the farm, and I sure as hell don't want to be buying foods that have been drenched in them either.
Whilst I'm not currently in a position to go fully organic, there are a few products I would certainly prefer to choose the organic versions when available. If you'd like to work out which ingredients your family would most benefit from swapping over for a cleaner option, google the 'dirty dozen' and you'll get an idea of those fruit and veggies that get sprayed with, and retain, the most chemicals.
Do you already buy organic, and if so, which items so you swear by?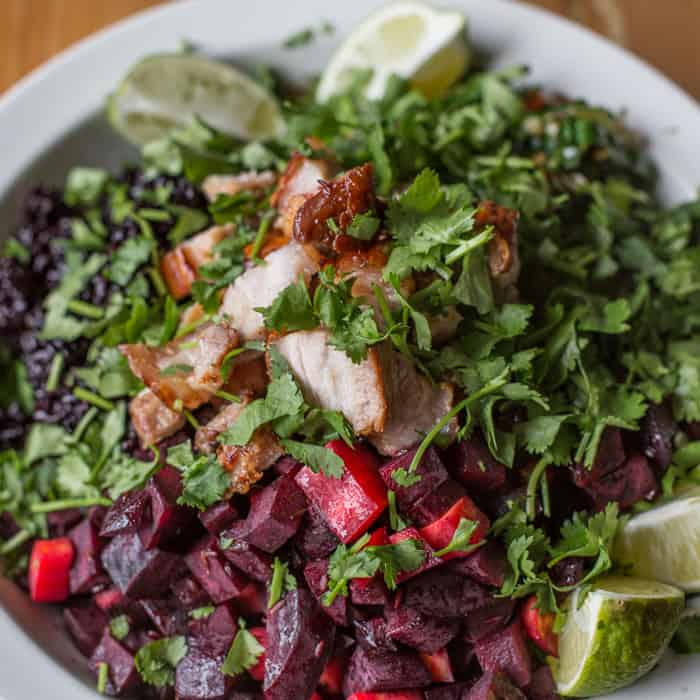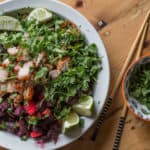 #OrganicUnboxed Challenge
Ingredients
The Rice...
180

g

Black rice

400

ml

water

1

stock cube
The Pork Belly...
500

g

belly pork strip

skin slashed and sprinkled with a little salt

1

tablespoon

soy sauce
The Beetroot, Carrot & Cumin...
450

g

Beetroot

unpeeled weight

1

tablespoon

oil

1

teaspoon

cumin seeds
The Cabbagey noodles...
1

tablepoon oil

1/2

Savoy cabbage

deveined, rolled and sliced really really thin

1

small leek

cleaned and sliced

2

cloves

of garlic

minced

1

red chilli pepper

finely sliced

1

lemongrass

topped, tailed, the white part bashed with the back of your knife, then sliced
Instructions
The Rice...
Pop everything in the pan, pop on the lid and cook for 25 minutes.
The Pork Belly...
Carefully slash the pork skin, rub a little salt into the skin (wipe with a little oil first if it won't stick)

Pour the soy sauce into the bottom of a baking tray. Press the belly slices down with the back of your hand so they stand skin side up. Stand in the soy sauce and roast uncovered for 15 minutes at 220, then reduce heat to 180 for 20 minutes.
The Beetroot, Carrot & Cumin...
Top & tail, peel and dice the beetroot and carrot and place into a baking tray. Pour a little oil over and sprinkle with the cumin seeds. Toss together well, cover with foil and bake for 25-30 minutes at 180.
The Cabbagey noodles...
Heat the oil, then add the garlic, chilli and lemongrass for 2 minutes. And in the cabbage ribbons and stir fry until it 'sinks' :)

When the pork is cooked, slice into bite size pieces and serve with the other elements of the meal.
Huge thanks to Organic UK for sponsoring this post and providing me with a tasty mystery box of food and lots or organic inspiration! As always all thoughts (and leftovers!) are my own.
Janie x