*This competition is open worldwide!*
Do you knit? Do you felt? Do you know Nunoco?
I had the greatest please of meeting these beautiful ladies at a party last year, and even though I'm not really a knitter, I instantly fell in love with their products. Their photographs are so pretty, please go and check out their little shop on Etsy!

They have been kind enough to send me a GIGANTIC ball of wool to send to one of you lucky folk. It's a lightly twisted super chunky yarn, so grows really fast!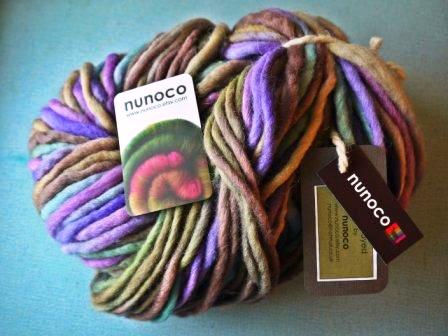 It's a great wool to use if you want to do felting too, you knit up say, a bag, bigger than you want it, then bung it in the washing machine on a high temp and it shrinks and felts together (the shrinkage is around 20%). If you don't want it to shrink, either hand wash or use a low temp in the machine.
This colour blend is a one off, dyed especially for us! It's a mix of soft turquoise, lilacs, greys and taupe's. If you become addicted to this exact colour blend, send the girls a piece containing all the colours, and they'll dye you up some more to match!
So, do you want to win it? Fill in as many of the following fields as you like to gain extra entries.
GOOD LUCK!!!