Tarka Daal, that nourishing, creamy lentil curry, is the perfect winter warmer that is cheap, easy to prepare, and tastes outstanding.

Comfort food, with a gentle kick. Just perfect for this time of year, and ridiculously cheap to prepare too. This entire recipe made enough for four people (if served with rice or naan bread) or two people on its own, and it cost a staggering £1.75 to make.
I must admit to this being the first time I've ever made it, and give thanks to Sailu's Kitchen, Madhur Jaffrey and Food and Spice for inspiring me and pointing in the right direction.
What is apparent when reading various recipes for this dish, is that there isn't one rule of thumb for making it. What I have garnered though, is that daal is the creamy lentil 'porridgey' bit and tarka (or tadka accordking to some) is the sizzling fragrant, spicy oil that is drizzled on the top. Some use onions & garlic in the tarka, some don't. I did as we are ever so slightly addicted to both.
Whether you want tonnes of heat, or would rather make it family friendly, go for it. I used one whole chilli in the tarka and another in the daal, but the chilli's I used turned out to be ridiculously mild, and sadly I only realised this after I'd thrown the seeds in the compost. We live and learn.
To add extra depth to the tarka, try adding coriander seeds, curry leaves, asafoetida, black mustard seeds and/or fresh ginger.
Do give this one a try if you're not a great home curry cook, and let me know what you think of it. Jonny hasn't tasted it yet, but I reckon he is going to love it!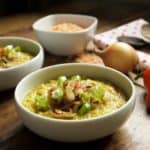 Meat Free Monday ~ Tarka Daal
Servings
:
2
-4, depending side dishes
Ingredients
Daal
250

g

red split lentils

1

litre boiling water

1/2

teaspoon

turmeric

1/2

teaspoon

black pepper

1/2 - 2

chilli's depending on the variety and your taste

4

tablespoons

of freshly coriander

chopped
Tarka
1

tablespoon

oil

1

onion

finely sliced

1

teaspoon

cumin seeds

1/2 - 2

chilli's

as above

4

cloves

of garlic

chopped
Instructions
Rinse the lentils in lots of cold water, then add to a large pan with the water. Boil hard for 10 minutes, then reduce the heat and let simmer for 30 minutes.

In the last 5 minutes of cooking, add the turmeric, pepper & chilli.

Meanwhile, heat the oil in a frying pan and fry the onions until it is changes colour, becoming almost translucent. Add the chilli and cumin seeds and let fry down until the onion is golden brown. Add a teaspoon more oil and add the garlic. Keep it constantly moving so as to cook the garlic, but not let it burn.

Mix the fresh coriander through the daal, then portion it between bowls. Top with the tarka adding a sprinkle of fresh coriander or chopping spring onions greens for contrast.