This was such a fun project! I was recently asked by Most Wanted, the lifestyle magazine by Voucher Codes to create a recipe for feeding a crowd of 10 or more people, for less than £3 a head. Lamb, Butternut Squash And Apricot Tagine was the result !!
£30 for 10 people? EASY!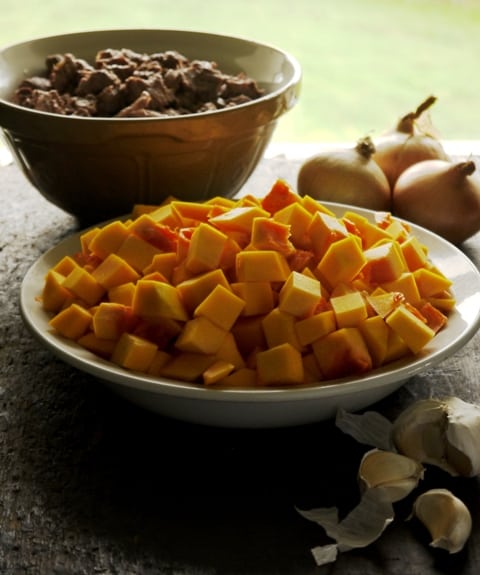 I opted for a tagine, that dish with no rules that is actually named after the pot it's cooked in. I don't have a tagine (the pot) big enough to cook for this many mouths, so I cheated and used a slow cooker and a stock pot. Well I couldn't blow my £30 budget on a cooking pot could I :)
Tagines (the meal) are perfect for preparing in advance. Filling, warming and bursting with gentle spices and flavours, you can adapt the heat & spice levels to please the crowd, adding more or less chilli as you see fit.

Spices
If your spice cupboard is pretty low, don't spend out buying lots of separate pots, just look out for Ras el Hanout instead. This is a Morroccan blend of spices traditionally used in making tagines. Add 3 or 4 tablespoons to your meat instead of all the dried spices listed in the recipe, you can always add more later if needed.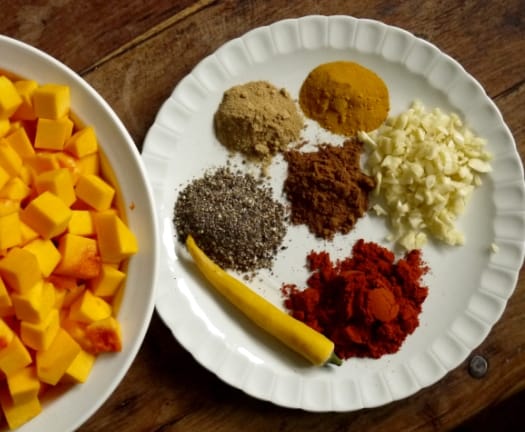 Texture
The flaked almonds add a lovely crunch of texture whilst the apricots bring a subtle sweet richness. I cooked my meat up separately in the slow cooker as I wanted to prep the meal the day before. Feel free to skip this step and cook it altogether in the stock pot either on the hob or in the oven on a nice gentle heat as you want the meat to be perfectly tender.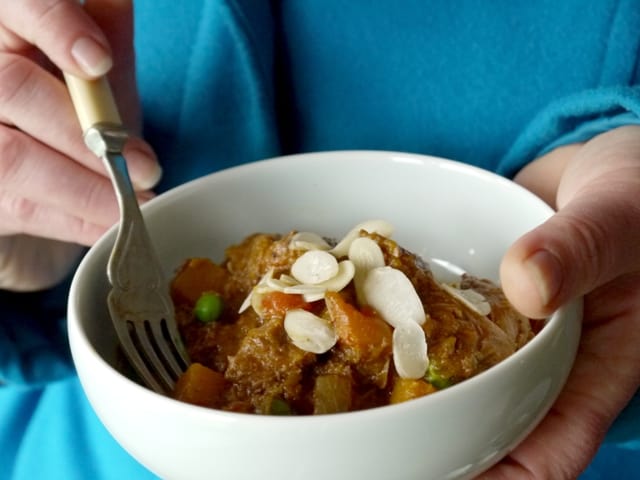 In total, my tagine totted up to £24.65. Not bad for a proper big tasty feast! Any leftovers will freeze perfectly or be welcomed by friends and family to take home with them.
Lamb, Butternut Squash and Apricot Tagine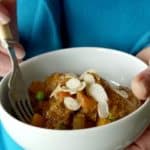 Lamb, Butternut Squash and Apricot Tagine
Keyword:
Lamb, Butternut Sqush and Apricot Tagine
Ingredients
2.5

kg

lamb. Look a the price per kilo

in weight, it may work out cheaper to buy a half leg of lamb and cut the meat off in chunks. Remember to buy more if it's on the bone though. Otherwise stewing lamb or mutton is perfect.

2

tablespoon

sweet paprika

2

tablespoon

black pepper

1

tablespoon

cinnamon

1

tablespoon

ginger

1/4 - 1

tablespoon

chilli powder OR 1-3 fresh chilli's finely chopped

2

tablespoons

oil

275

ml

water

2

kg

butternut squash.

aim for one large one or maybe 2 smallish ones.

3

onions

diced

1/2

bulb

garlic

about 6-8 cloves.

1

tin

tomatoes

250

g

dried apricots

Salt

100

g

flaked almonds
Instructions
Remove the lamb from the bone and cut into large chunks if necessary.

Take off any big lumps of fat or tendon, small bits will melt away so don't worry about them.

Sprinkle the dry spices over the meat and rub in well with your hands. In a perfect world you'd cover it at this point and leave overnight to soak up the flavours, however if you don't have time don't give it another thought. Your end dish will still be very tasty.

Heat the oil in a large cast iron pan. When it is very hot add in the cubed meat and leave it to sear all over.

Tip out into a slow cooker, add the water and let it cook for 4-6 hours on high, or overnight on low.

When the meat is falling apart, pour the cooking liquid out into the stock pot, adding the butternut, onions, garlic, tinned tomatoes and let them simmer for 20 minutes.

Add the apricots, meat and almonds and stir well before seasoning with salt. I used about 1 level tablespoon, but please taste as you season.

Let simmer for another 10 minutes or until the apricots have swollen and the butternut squash is perfectly soft.

Sprinkle the rest of the almonds over the top, and serve alongside a big bowl of cous cous, rice or baguettes cut into thick slices.
Nutrition Facts
Lamb, Butternut Squash and Apricot Tagine
Amount Per Serving
Calories 568
Calories from Fat 189
% Daily Value*
Fat 21g32%
Cholesterol 162mg54%
Sodium 177mg8%
Potassium 1867mg53%
Carbohydrates 40g13%
Protein 56g112%
Vitamin A 4330IU87%
Vitamin C 27.3mg33%
Calcium 143mg14%
Iron 7.2mg40%
* Percent Daily Values are based on a 2000 calorie diet.
This post was gratefully sponsored by Most Wanted magazine.