I met a lovely new friend this week by the name of Julia. She had heard we had a crazy bumper crop of tomatoes this year, so she gave me a jar of her Tomato Relish and the recipe – what a perfectly practical friend! :)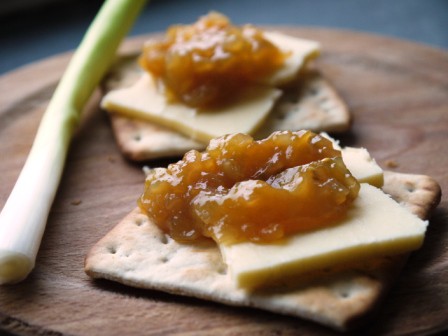 It is one of the nicest tomato based relishes I have ever had, sweet with a gentle spice kick. I tried it atop a cracker on its own which was OK, but when I snuck in some cheddar cheese too, it came alive in my mouth. I may well pay for eating this little bit of cheese, but I reckon it'll be worth it!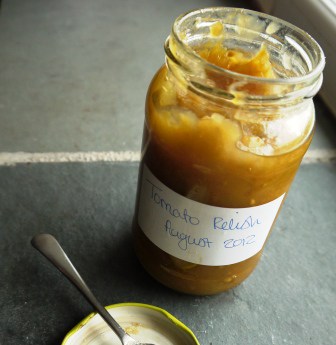 She said it was OK to share the recipe with you all, so here it is. And for those in the market for some more fun chutney recipes, how about this tempting spiced tomato and courgette chutney from Elizabeth's Kitchen Diary?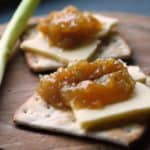 Julia's Tomato Relish
Ingredients
Stage 1
4

lb

/2k skinned tomatoes

4

lb

/2k Large onions

3/4/500

ml

pint cider vinegar

1

lb

/500g sugar

2

tablespoons

salt

1½

teaspoon

curry powder

1½

teaspoon

dry mustard
Stage 2
4

tablespoon

cornflour

2

floz

/65ml cider vinegar
Instructions
Pop everything from stage 1 into a large saucepan together, bring to the boil then simmer for an hour.

Take off the heat, then add the cornflour and cider vinegar.

Bring back to the boil and it's ready to can or jar.

It sounds so simple, and I can vouch for how good it tastes!