This potato salad goes above and beyond the traditional version with cripsy bacon and fried onions. Yum!
Jonny cooked tea last night, and whilst this would normally result in a fantastic bangers and mash or spag bol, he completely threw me by serving up a whole bunch of salads! The carrot salad is his take on a friends superb Portuguese Carrot salad which we both love, but I was most excited by that potato salad – it was fantastic!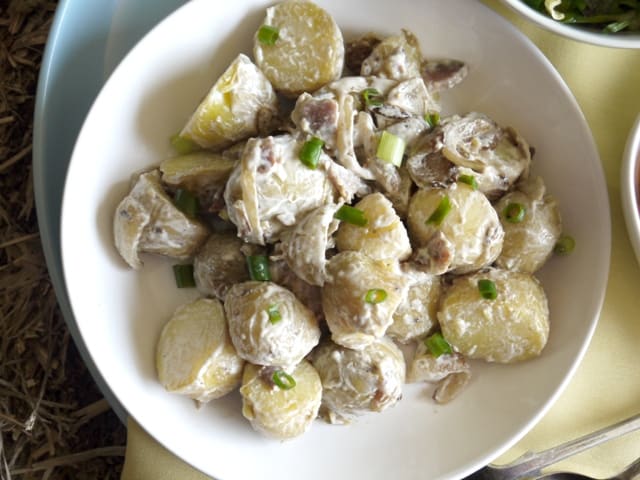 It's hardly rocket science, but it's not a combo I would ever have dreamt up. Fried onions, crispy bacon and creamy mayo on smooth new potatoes. It was utterly delicious.I'm definitely making this one again, and reckon it'll be perfect cooked round a campfire with leftover bacon from breakfast. Go Jonny!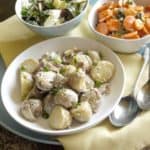 Jonny's Potato Salad
Ingredients
Bacon

chopped

Onions

sliced

Baby or new potatoes

Mayonaise
Instructions
Fry the bacon until really crispy and the onions until softly caramelised.

Boil the potatoes until just cooked, then tip away the hot water & refill with cold to cool them quickly.

Stir the bacon, onion and mayo through the totally cooled potatoes, season with salt & pepper and serve.