Oh, the irony. Dashing into the fruit garden in between torrential downpours to pick the berries for individual summer puddings.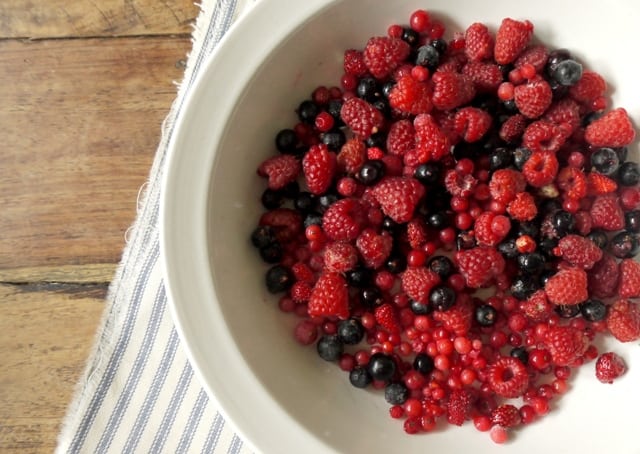 Only in England.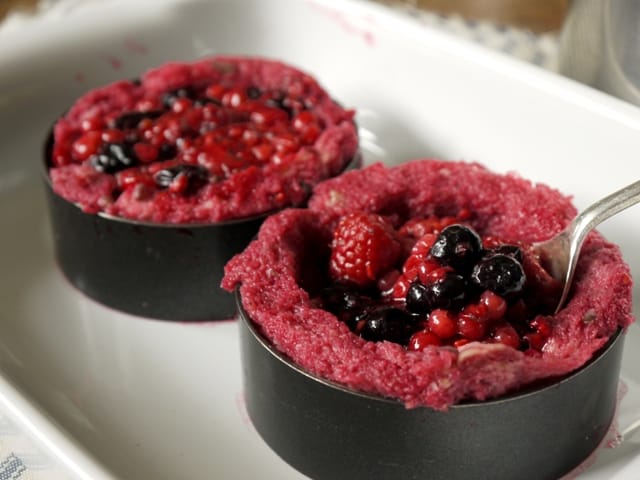 I've never made a summer pudding before. It always seemed like such a faff when you could just eat a bowl of freshly picked berries instead. Or ignore the bowl altogether and just eat them straight from the bush.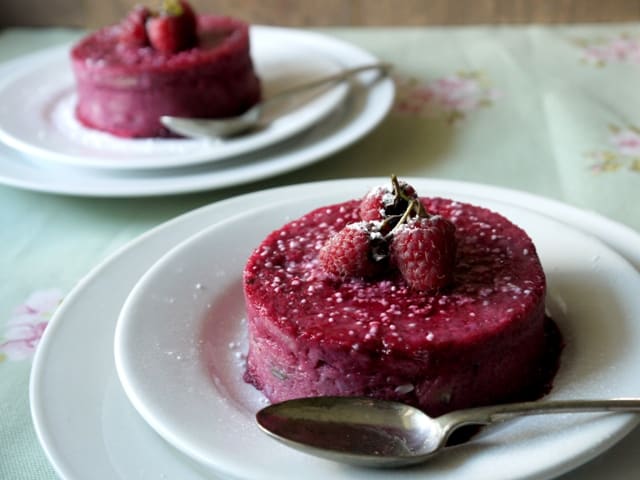 Turns out this pud is totally worth the effort. It looks really impressive, there is no baking involved and it is really fun to make. I even felt a bit like Delia, overlapping my slices of juice soaked bread in the rosti rings. Maybe there's hope for me yet!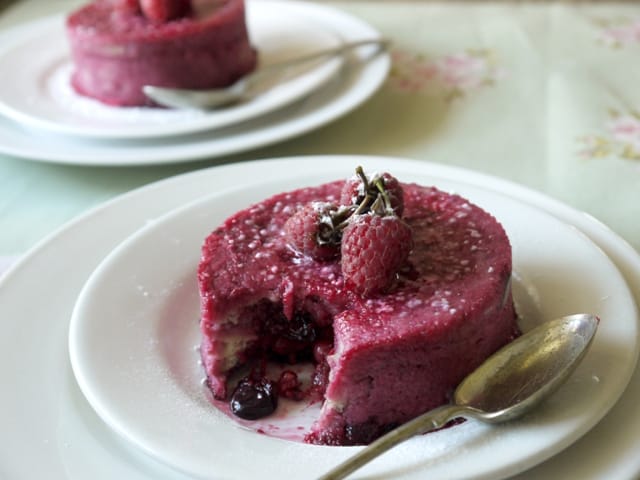 As I was pretty sure Jonny wouldn't like it (too much fruit, not enough chocolate) I figured if I made little individual summer puddings instead of one giant one, I could keep one in the fridge for tomorrow without it drying out ;)
And if you are left with a bunch of blackcurrants to use up, check out this homemade blackcurrant syrup recipe Yum!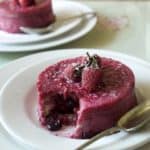 Individual Summer Pudding
Ingredients
300

g

of summer berries. I used redcurrants

blackcurrants, wild strawberries & raspberries

2

tablespoons

sugar

Use more or less depending on your taste and how tart your fruit is

2

tablespoons

boiling hot water

4

slices

bread

I used white seeded
Instructions
Pop the fruit, sugar and hot water in a saucepan over a medium heat. When the juice starts to leak from the fruit, turn the heat off and pop the lid on to let them steam. Be careful if you stir them so as not to break up the berries too much.

When there is a fair bit of juice in the bottom of the pan, pour it all into a sieve over a bowl. Collect the juice in the bowl then pop the fruit back in the pan with the lid on to release a little more juice.

Using your teacup, ramekin or rosti/poached egg ring as a guide cut a disc out of 2 slices of bread.

Soak the disc of bread in the juice, then line the bottom of your teacup, ramekin or rosti ring with it.

Remove the crusts from the other two slices of bread, slice into strips wide enough to form the 'walls' of your pudding.

Dip them in the juice then line the ring, overlapping wherever you join two ends of bread together.

Spoon the fruit mixture into the centre of each pudding. Pop a weight of some description on top of each pudding (I used a ramekin on each with a baking dish balanced on top) to squash the fruit together and firm the pudding up.

Leave in the fridge overnight, or for at least 5 hours.

Tip out each pudding onto a small serving plate. Decorate with some fresh berries and a sprinkle of icing sugar. A dollop of cream on the side would really be delightful too.
Nutrition Facts
Individual Summer Pudding
Amount Per Serving
Calories 273
Calories from Fat 18
% Daily Value*
Fat 2g3%
Cholesterol 0mg0%
Sodium 249mg11%
Potassium 540mg15%
Carbohydrates 59g20%
Protein 6g12%
Vitamin A 345IU7%
Vitamin C 271.5mg329%
Calcium 213mg21%
Iron 4.1mg23%
* Percent Daily Values are based on a 2000 calorie diet.