Honey Roast Root Veg Soup  a warming Superfood Soup perfect for cold winter days when you need comfort food but still want to be good ! A slightly sweet, earthy soup full of root veg goodness. It's also very, very healthy!
Sometimes, I have a foodie idea that starts off (in my head at least) incredible, but by the time I come to serve it up, I'm fretting that it'll taste horrendous.
Jonny is very sweet in my epic moments of kitchen failure but equally, he's very honest. Which is a good thing, right?
So as I was ladling this very pretty coloured root veg soup into the bowls, I was wincing inside, wondering how bad it was going to be. I mean, parsnips are sweet and sweet potatoes are obviously sweet, and here I was adding honey to them.
Thankfully, and somewhat surprisingly, it tasted good. Actually, it tasted really good.
There was a hint of sweetness, but it wasn't overwhelming, rather it enhanced the natural flavour of the root veg. I think the dash of chilli helped too. It wasn't enough to blow your brains out by any means, but without it I wonder of the soup would have tasted a little too much like, pudding.
May I recommend you bookmark or pin this recipe for when you have a fridge full of veggies that are about to commit suicide. Soups are so forgiving when it come to wrinkly turnips and wobbly carrots, and once you've turned them into this glorious bowl of goodness, it'll freeze well until another day.
Honey Roast Root Veg Soup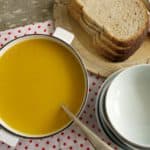 Honey Roast Root Veg Soup ~ Superfood Soups
Keyword:
Honey Roast Root Veg Soup
Ingredients
2

tablespoons

oil

1

potato

medium to large,peeled and diced

1

kilo

mixed root veg

I used 1 large carrot, 1 small turnip, 1 parsnip and 1 sweet potato, peeled and diced

1

onion

large ,chopped

2

tablespoons

honey

1

teaspoon

balsamic vinegar

3

cloves

garlic

crushed

1.25

litres

boiling water or stock

1

pinch

chilli powder

or dash of chilli sauce
Instructions
Preheat the oven to 180/350/gas 4.

Peel and chop all the root veg into inch cubes. Toss in a baking tray with the oil and roast for 15 minutes.

Place a mug into a jug of freshly boiled water to allow the dressing ingredients to warm through. Into the mug, mix the honey, balsamic vinegar, chilli and garlic.

Take the tray of veg out of the oven, and turn it down to 170/ 325/gas 3

Add in the chopped onions and mix the now warm and runny dressing over all the veg, mixing well. Pop back in the oven for 20-30 minutes, or until all the veggies are soft but before they pick up much colour.

Tip all the veg into a large pan, pour in the stock or water and blitz with a stick blender until beautifully smooth. Season with pepper and taste before adding any salt.
Nutrition Facts
Honey Roast Root Veg Soup ~ Superfood Soups
Amount Per Serving
Calories 93
Calories from Fat 36
% Daily Value*
Fat 4g6%
Cholesterol 0mg0%
Sodium 5mg0%
Potassium 179mg5%
Carbohydrates 12g4%
Protein 1g2%
Vitamin C 5.9mg7%
Calcium 18mg2%
Iron 1.2mg7%
* Percent Daily Values are based on a 2000 calorie diet.