This homemade pesto recipe if the perfect way to use up a glut homegrown basil and it tastes great!

I've never made pesto before as a) buying a bunch of basil in the supermarket is darned expensive and b) I've never managed to grow much of it myself. Oh, how that has changed! I have a whole bushy row of shiny leafed loveliness in the poly tunnel, that emits the most adorable scent of summer salads when it is watered of an evening.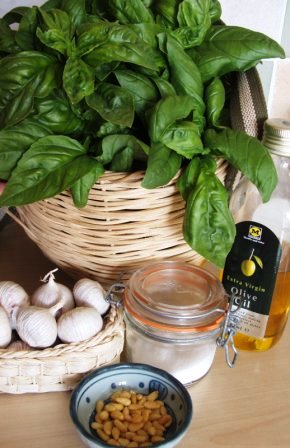 This should last a week in the fridge before growing fluff. To store it (unopened) for a little longer make sure the jar you use is sterilised and pack the pesto down to ensure there are no air pockets. Drizzle a little more olive oil over the surface to 'seal' it.
Pesto is obviously very tasty when stirred into pasta, but it also pretty darn good in a bacon butty or watered down with a little lemon juice and used as a salad dressing. How do you eat yours?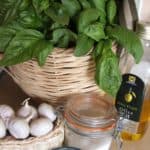 Homemade Pesto Recipe.
Ingredients
2

oz

freshly picked basil leaves

1

large clove of garlic

1

tbsp

pine nuts

Pine nuts are expensive, I will try this again using walnuts and let you know

6

tbsp

olive oil

1

oz

parmesan

Pinch salt
Instructions
Whizz up the oil, salt, nuts, parmesan and garlic to make an oily sauce (it smells so gooood!)

Pop a small handful of leaves in at a time whizzing as you go until you've got something that looks like, well, Pesto.

Umm, that's it. Should I have made it sound more technical...?