Grilljunkie's Burger a Day Cookbook turns the mundane into the divine, and will have you eager to dust of the BBQ. Roll on summer!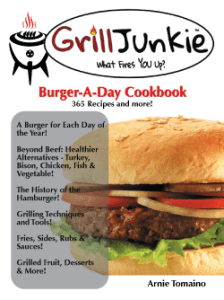 At last, a top notch round up of burger recipes that go beyond the norm and promise to excite the most jaded of cooks. The Grilljunkie website is a chocka full of useful hints and tips for those of us addicted to outdoor cooking, however they took their tasty research one step further and published a book with enough burger recipes for every day of the year in the Burger a Day Cookbook!
From the chapter dedicated to various beef and bison burgers, where the recipes range from the plain to the delirious, we move on to fish & seafood burgers where I stopped in my tracks at the thought of the Lobster Burger with Kickin' Avocado Mayo. Sadly the ingredients wouldn't fit into my shopping budget this week, so I marked the page and kept looking.
Next we have a selection of sublime sounding chicken burgers, and the Glazed Chiplotle Chicken Burger is high up on my list of 'must-makes'. Then there are various recipes for turkey, lamb, pork and a decent sized chapter on vegetable burgers too. I would never have thought to attempt a panini on the BBQ, but all is explained in the Grilled Panini with Basil and Mozzarella recipe.
The final section of recipes is titled Fries, Sides, Rubs and Sauces and this chapter alone promises to be my go to this summer.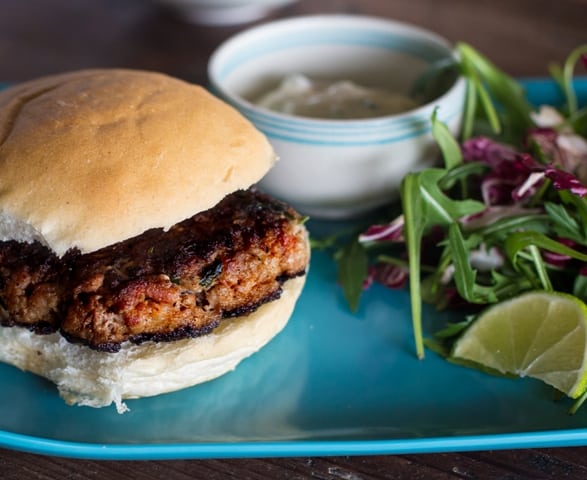 Reading up on the supposed origins of burgers didn't make for such pleasant reading, let just say I'm glad I don't have to tenderise my food by sticking it between the saddle and the horse I'm riding for days at a time! Wherever the humble burger originated, I for one am glad that it did and by using these innovative recipes you'll know exactly what is in your families dinner.
If you fancy snapping up your own copy of Grilljunkie's Burger a Day Cookbook go grab the Kindle version and then it will always be on your phone or ipad when you next go camping, or treat yourself to the paperback version if you're more of a home BBQ'er.

The GrillJunkie's Burger a Day Recipe
So when it came to choosing a recipe to make from the book, I flipped through and the very first one that sung out to me was the Chipotle Aioli Pork Burger. I cannot fault this burger in the slightest. It is the dreamiest blend of pork, chorizo, bacon and herbs known to man and it gets a massive thumbs up from Jonny & I.
This little beauty is a masterpiece, and I beg you all to give it a go next time you fire up the BBQ (or in my case cook it in a skillet as it appears to be monsoon season in Cornwall right now).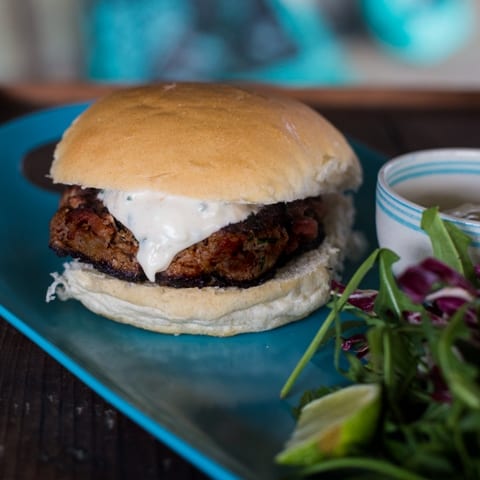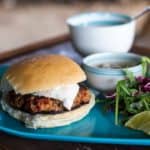 GrillJunkie's Burger a Day Cookbook
Ingredients
Aioli
1

cup

of mayonnaise

2

tablespoons

finely chopped chives

2

garlic cloves

minced

2

teaspoon

fresh lime juice

1

teaspoon

chipotle chilli powder or chipotle hot sauce

Salt & pepper
Burger
450

g

85% lean minced pork

110

g

firm chorizo

skin removed and crumbled or very finely chopped

2

slices

of bacon

finely chopped

1/4

cup

of olive oil

6

shallots

minced

2

tablespoons

fresh parsely

chopped

2

teaspoons

fresh thyme leaves

1

teaspoon

ground cumin

4

hamburger buns
Instructions
Aioli
In a small bowl whisk the mayo with the chives, garlic, lime juice and chipotle powder or sauce to taste. Season with salt and pepper and chill until ready to serve.
Burger
In a large bowl mix the minced pork, chorizo, bacon oil, shallots, parsley, thyme and cumin.

Form mixture into four equal patties about 3/4" thick. Sprinkle with salt and pepper

Pre heat the BBQ to medium high and oil the frill grates with cooking oil. If you are grilling or frying preheat to medium high.

Place burger patties onto the BBQ, grill or frying pan. Sear and cook burger, turning once, for 7-8 minutes each side (14-16 minutes total) or until desired doneness being sure that meat reaches a safe cooking temperature of 160 degrees F

Set burgers inside buns, spread a liberal amount of aioli on each burger and enjoy!
Huge thanks to Grilljunkie for sharing their great cookbook with me to review and for sponsoring this post. As always all views are my own.
Janie x