Salads aren't something I've ever really eaten a lot of, having always been put off by a bit of damp Iceberg & some 'salad' tomatoes (why do they call them that? The only thing those insipid supermarket orbs are useful for is cooking, where you can at least attempt to imbibe them with a little flavour).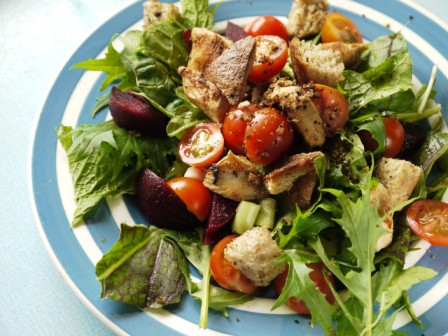 However, since growing my own greens I've discovered that a decent salad punches you in the face.
Add a simple dressing, a handful of croutons or a sprinkle of toasted seeds, and suddenly your tastebuds are dancing the mambo in the Mardi Gras.
This was tonight's concoction; 1 chicken breast, chopped & fried in a very hot pan with a little butter until brown, juicy & tasty looking with a heaped teaspoon of crushed garlic thrown in for the final minute of cooking time.
The chicken and all the juicy goodness in the pan was then poured over a big heaping plate of salad.
Real. Fabulous. Food.