Next time you are about to throw away a load of fruit that's past its best – think again. Just because it is too soft, brown or wrinkly to eat raw, doesn't mean it's ready for the compost bucket.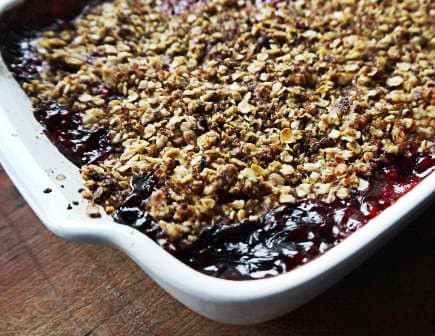 Peel, chop and throw in whatever sad looking bits of fruit you have laying around. Apples, pears, mangoes, bananas, pineapple, oranges, grapes – throw 'em all in a baking dish.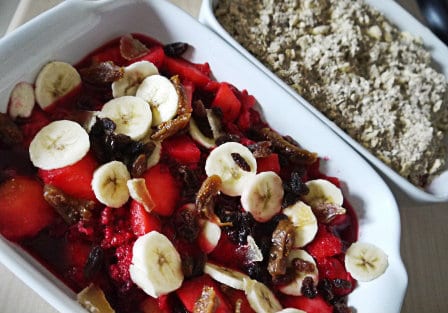 If it looks a bit boring, raid your dried fruit & nut stash too. I added a couple of cubes of thinly sliced crystallised ginger, sliced dried figs, sultanas and a handful of mixed nuts. I usually have some fruit lurking in the freezer too, this time I used up a bag of frozen raspberries that have been in there for (dare I tell you the truth?) years. Ahem.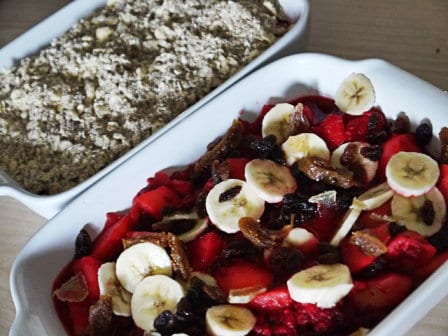 I cooked my apples & berries down a bit first (to defrost the berries & as there were so many apples, they may not have fitted in the crumble dish) but you don't need to do this.
And now the naughty, but oh so nice bit…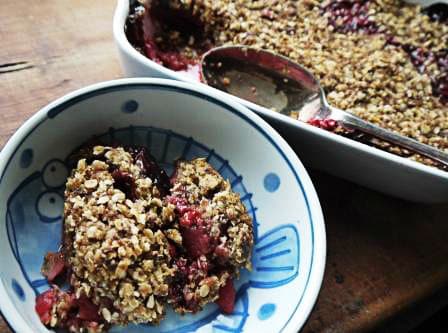 Not only does it taste great, but you'll be saving the planet, one brown banana at a time :)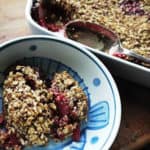 Fruit Bowl Crumble
Ingredients
110

g

plain flour

175

g

butter

50

g

rolled oats

110

g

brown sugar
Instructions
Whizz together the flour & butter in a mixer (or if you're lazy like me and don't want any more washing up, chop the butter into the flour with a blunt knife) until it looks like breadcrumbs. (the first time I made this I rubbed it in with my hands and it turned into a lump of dough, so don't use your hands unless they are icy cold!)

Stir in the oats and sugar, mixing well. Tip it out over your dish of fruit, and bake at 180C/350F/Gas 4 until the topping is browned, oozy and stained by the juicy fruitiness underneath.