This is the most time I have ever spent making a bowl of soup!
Was it worth the effort? Well it tasted mighty fine and I can now cross it off my bucket list of classic recipes to try before I die. 
Would I make it again? Honestly? Not for a very long time, no.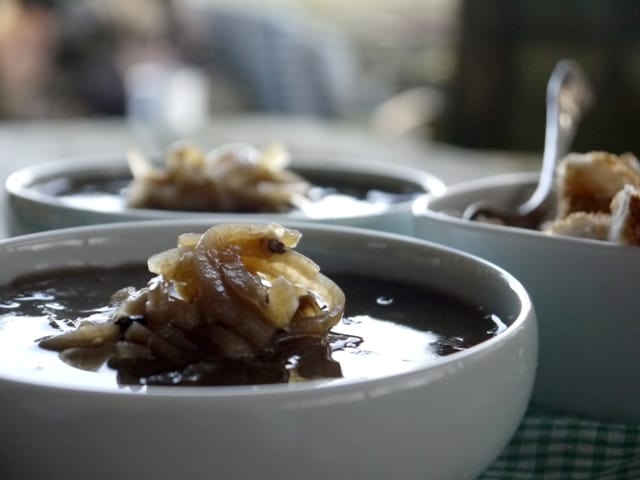 I'm about as far from being a classic cook as you can get. I'm girl in a hurry, with a bazillion things to do in a day that often just wants dinner to magically appear on the table when I'm ready to sit down and eat.
And if I'm tired, all I want for tea is a plate of buttered toast. Marmite optional.
So to go to the lengths involved in making a proper French Onion soup, from browning the beef bones for the stock, to sweating down those onions is not something I plan to indulge in again any time soon.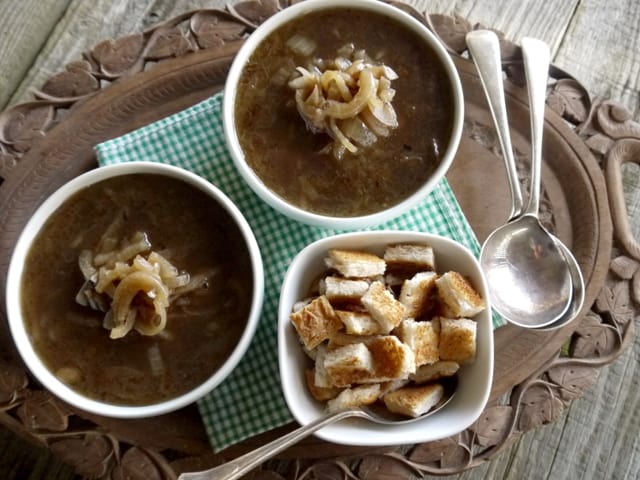 That said, if you have more patience than me or this classic soup is on your recipe bucket list, then here's how you go about it.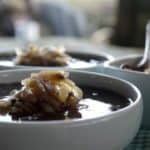 French Onion Soup
Ingredients
The Stock
2

kilo's thick

chunky beef bones. Ask your butcher very sweetly if he'll saw them into 4" pieces for you

Cold water

Salt & pepper
The Soup
600

g

onions

thinly sliced

4

garlic cloves

minced

A pinch of sugar

1

litre of beef stock

275

ml

red wine

1 glass

Salt & Pepper
Instructions
The Stock
Preheat the oven to 220/425/gas 7

Place the bones in a large roasting tin and cook for an hour. Halfway through, ladle the pan juices over the bones to help them colour nicely.

Pop the bones into a large stock pot, and pour over all those lovely juices too. Season well with salt & pepper and just cover with cold water. Bring to the boil and immediately turn the heat down to low and very gently simmer for 4-5 hours. Skim off any scum during cooking as necessary.

When the time is up, remove the bones & strain the liquid into a large jug or pan. Let cool to room temperature before popping in the fridge overnight.

The next morning, the fat will have solidified and be easy to remove. You'll be left with a big bowl of jellied meaty stock for which you'll need 1 litre to make the soup and the rest can be frozen for another day.
The Soup
Melt the fat or butter in a large pan until very hot. Add the onions, garlic & sugar and cook on high for about 5 minutes, or until the onions are colouring nicely.

Turn the heat right down low and cook for a further 30-40 minutes.

Next pour in the stock and the wine and season well with salt & pepper. Bring to the boil and immediately turn the heat down to a gentle simmer and leave for 1 more hour. Yep, I told you this was time consuming!

Serve with cheese on toast or cheesy croutons if you are a lactose happy traditionalist or a good quality bread toasted if not. Either way it'll be yummy, and even yummier the following day.