I actually made this cake for early for Mothers day last weekend, but I just knew it would make the ideal Easter dessert. The sharp, sweetness cutting through the rich flavours of a roast dinner, and the flowers being a fun reminder that winter is finally over!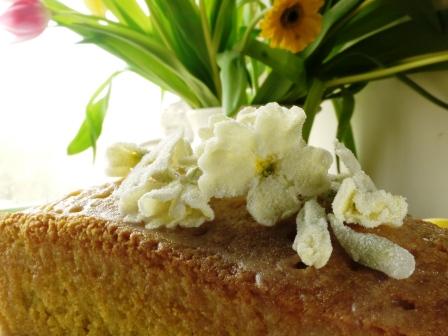 It was an absolute hit, and although the flowers on top aren't exactly compulsory, it did crank up the love enough to make a fabulous gift :)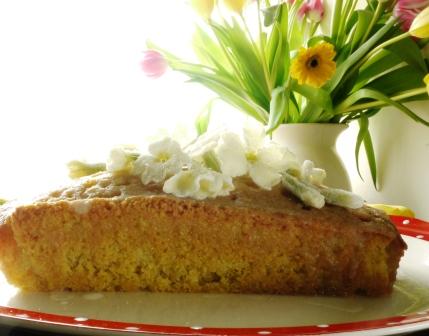 You can find a tonne more cake recipes here in my archives, and I'm planning to knock up this cassava cake soon, so I'll let you know how I get on!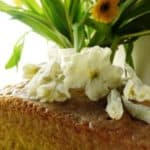 Easter Lemon Drizzle Cake With Crystallised Flowers
Ingredients
Crystallised Flowers;
A handful of edible flowers

An egg

A small paintbrush

A bowl of caster sugar
Lemon Cake;
175

g

plain flour

175

g

granulated sugar

175

g

butter

3

eggs

2

level teaspoon baking powder

Zest from 2 organic

unwaxed lemons
Lemon Drizzle;
juice of the 2 lemons

100

g

granulated sugar
Instructions
For the crystallised flowers;
If you are planning to make the sugared flowers, you'll need to make them the day before so they have time to 'set'.

Pick some fresh edible flowers, I used primroses, but you can use rose petals, violets, pansies etc (do please check the flowers you choose are edible and not poisonous!)

Separate an egg, and with a small paintbrush, paint every last fold of the petals. When each one if covered, sprinkle with the caster sugar to entirely coat it.

Place on a baking sheet covered with baking paper and leave to dry in the airing cupboard or somewhere warm and dry.
For the cake;
Preheat the oven to 180/160fan/gas4/350. Grease a large loaf tin, and line with baking paper.

Soften the butter a little. You don't want it runny, but it needs to be easily blendable.

Sift the flour into a large bowl, add the sugar, baking powder, butter, eggs and the zest of the 2 lemons. Mix well with a spoon or mixer, until all is incorporated.

Scrape into the loaf tin, and bake for around 45 minutes, till golden and a skewer comes out clean.

Pop out of the tin onto a cooling rack balanced over your serving plate.
For the drizzle;
Stab the cake all over with the skewer, mix the drizzle ingredients together, and immediately start spooning it over the cake.

You want it to soak down into those holes and not pour all off the sides, but if you take too long the lemon juice will dissolve the sugar and you'll miss out on that gorgeous, sugary crust.

Let cool completely before adding the crystallised flowers to the top.

Now pour yourself a large glass of something chilled for being such a domestic goddess :)