Hey guys, welcome to my Easter Bunny Carrot Cake recipe! My version is dairy free but there are options for you dairy happy folk below too!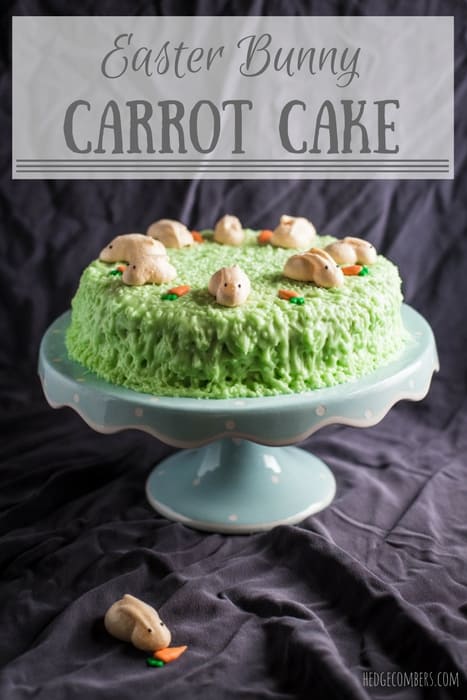 Let's hear it for Spring. And cuteness. And sunshine & flip flops! What a relief it has been of late to feel the sun on my skin after what felt like a never ending winter.
A couple of weeks ago, Iceland sent me another recipe brief, and this one was the best I've seen all year…
'Make a dish that is not what you think it is'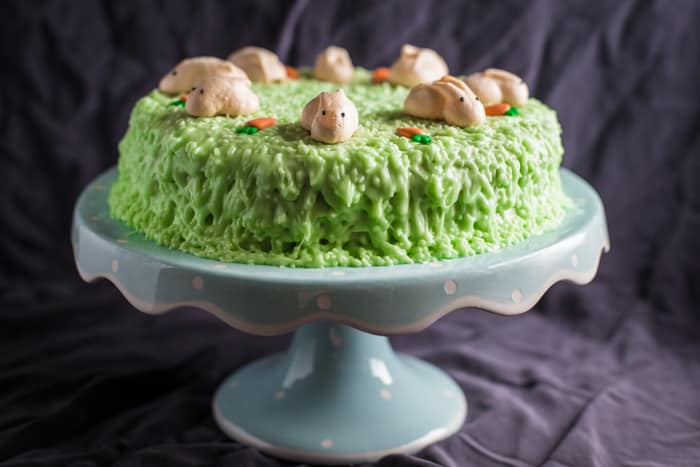 The only criteria was that it had to utilise the #PowerOfFrozen and be packed full of either Iceland's frozen fruit, or frozen veg.
And I'm pretty sure thy were after the craziest, wackiest ideas we could come up with.
No pressure huh?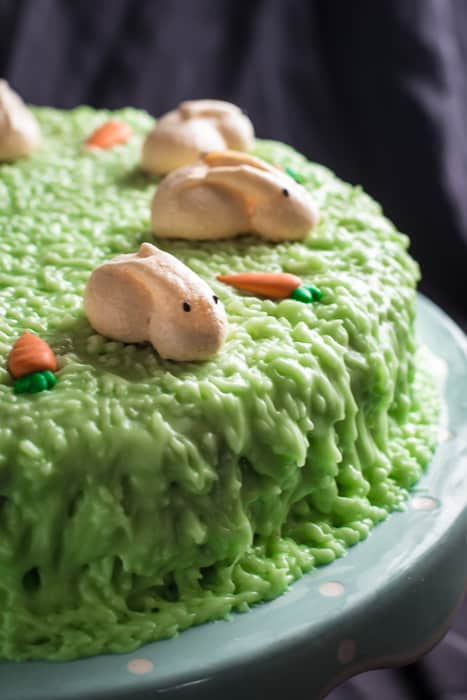 As I stared out my office window, working out how on earth I could fulfil this brief, inspiration (finally) struck.
In the field outside my window, a mass of bunnies were frolicking in the late afternoon sun. Admittedly it took a while to get from that initial burst of inspiration, to working out how to pipe bunnies out of meringue. But that's what a challenge is all about huh?!
Easter Bunny Carrot Cake
So first up, the cake. It's moist and moreish and packed full of carrots.
I once again utilised the #PowerOfFrozen by buying these super sweet baby carrots from Iceland. Whizz them up in the food processor and they come out perfectly sized for carrot cake (and so much easier than grating!)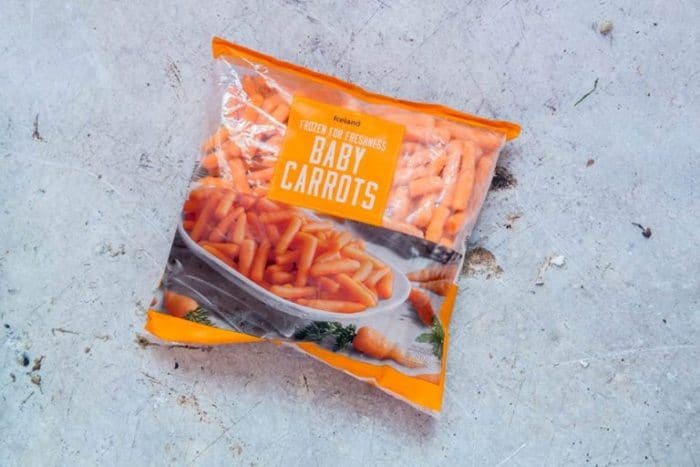 It's so handy a/ not having to peel and grate enough carrots for a cake and b/ only needing to defrost the amount that you actually need for a recipe. And no food waste make me a very happy bunny :)
Oh, and I've since discovered that these frozen baby carrots are also sublime when roasted too. Let them defrost, then pat dry with a paper towel before roasting in a little hot oil. A big win for zero work!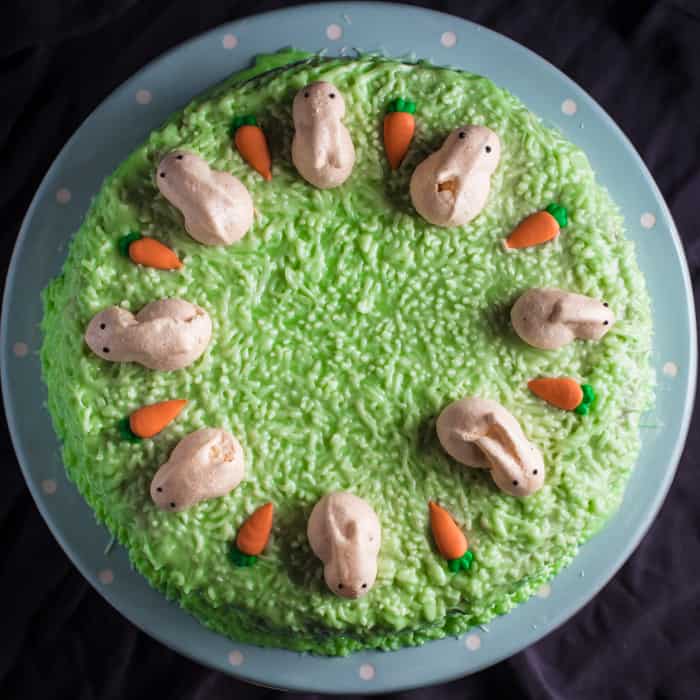 Now the days are warming up I tend to take my cool bag (with pre-frozen ice blocks in) when I go to town. I leave it in the van, then empty my Iceland haul in to it before heading home. Dead easy and keeps everything in perfect shape from store to my freezer.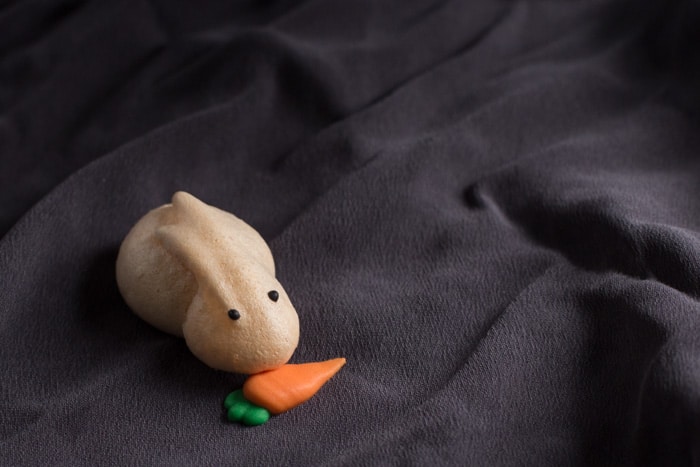 Secondly, this Easter cake is topped with these ADORABLE meringue bunnies. They are so cute and so much fun to make that I hope you get the entire family on meringue making duty this weekend!
Make up the meringue mix, spoon into a piping bag and this is how you make the bunny shapes…
Now the grass didn't turn out quite as I would have liked. I used dairy free cream cheese instead of regular, and had to add a tonne more icing sugar than I was expecting as it just stayed so wet.
And whilst the 'grass' nozzle I bought for piping makes the frosting look nicely textured, it wasn't the lush green spiky grass effect I was after. If you try this recipe with regular cream cheese, please let me know if the grass behaved itself more for you. Or perhaps the grass nozzle only really works with buttercream. Answers on a postcard please…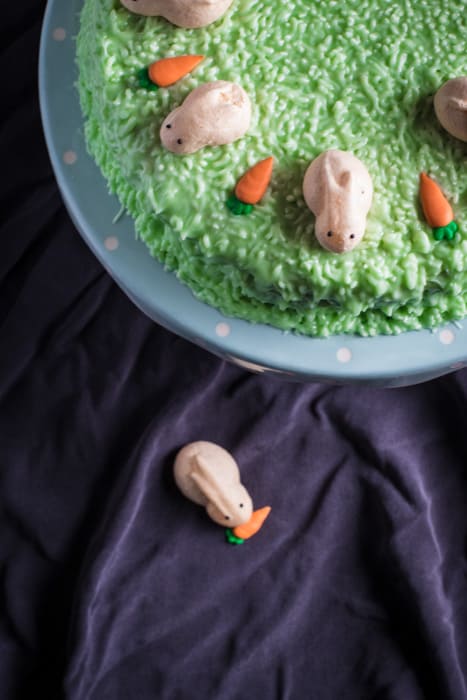 If you need more crazy food ideas for the Easter holidays, then keep an eye out on Twitter for the #PowerOfFrozen hashtag. I have a feeling things are going to get slightly surreal over there!
So far I've seen a cake made of sandwiches, some crafty Easter bunny smoothies a Carrot Pizza and this one takes the biscuits (doughnut?)… sushi doughnuts! It's a crazy time of year for sure :)
Happy Easter friends, we're off camping now so see you soon!
Jane x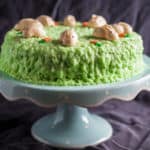 Easter Bunny Carrot Cake
Ingredients
Meringue Bunnies
1

large egg white

50g

white caster sugar
Carrot Cake
125g

plain flour

3

teaspoons

baking powder

1

teaspoon

mixed spice

1/2

teaspoon

salt

150g

coconut oil or butter

softened

1

zest of organic, unwaxed orange

finely grated

150g

sugar

3

eggs

250g

frozen baby carrots

defrosted & pulsed in food processor

75g

ground almonds

75g

dates

chopped

75g

walnuts

chopped
Cream Cheese Frosting
100g

cream cheese

150g

icing sugar

*if you're using vegan cream cheese you'll end up using a lot more icing sugar!

Several

drops

green food colouring

Mini marzipan or sugarcraft carrots

to decorate
Instructions
Meringue Bunnies
Heat the oven to 110/225/gas 1/4.

Line a baking tray with silicone or non stick parchment paper (don't use foil or greaseproof paper as these meringues are delicate & may stick).

Using an electric whisk, beat the egg white until stiff peaks are formed.

Add in the sugar, one spoon at a time, letting it get mixed through for 2 or 3 seconds between each spoonful.

When the mixture is stiff and glossy, scoop into a piping bag with a large spoon.

Pipe one ball of meringue, about an inch in diameter. Add a second, smaller ball on the side for the head, then stop squeezing the bag and drag the nozzle back to form one ear. Without squeezing, touch the tip at the front of the head where the second ear would start, and drag back to create the second ear.

Bake the bunnies for 1-1.5 hours, or until the bunnies com away easily from the sheet. Pop on a wire rack to cool fully before storing in an air tight tin. These can be made weeks ahead of time and will last well.
Carrot Cake
Preheat the oven to 180/350/gas 4. Lightly grease a 20cm cake tin and add a disk of baking paper to the base of the tin.

Sift together the flour, baking powder, mixed spice and salt into a bowl.

In a second bowl beat the butter and orange zest together. Add in the sugar and continue until the mixture is light and fluffy.

Drop in one egg at a time, along with one tablespoon of the dry mix, and mix well before adding the next.

Fold through the rest of the dry mix, then fold in the carrots, ground almonds, dates and walnuts.

Scoop the batter into the cake tin and smooth out. Bake in the pre-heated oven for 45 minutes, or until the top springs back when pressed with your finger.

Run a knife around the sides of the tin and turn out onto a wire rack to fully cool. I let mine then sit in the fridge for an hour to make the icing easier.

When your cake is cold, mix up your frosting to use straight away.
Cream Cheese Frosting
Beat the cream cheese until lovely and soft then add in the icing sugar carefully (this always makes such a mess if you try to rush it!)

Add the green food colouring until you have the colour 'grass' you like and scrape the frosting into a piping bag fitted with a 'grass' nozzle.

Pipe the grass all over the top of the cake, or double the recipe if you'd like to cover the sides too.

Finally, top the cake with your delicate meringue bunnies, marzipan or sugarcraft carrots and enjoy!
HUGE thanks to Iceland for this truly bonkers brief, and allowing m to continue bringing you tasty recipes, for free. As always all thoughts (and leftovers!) are my own.
Jane x