I'm so excited to share this recipe with you!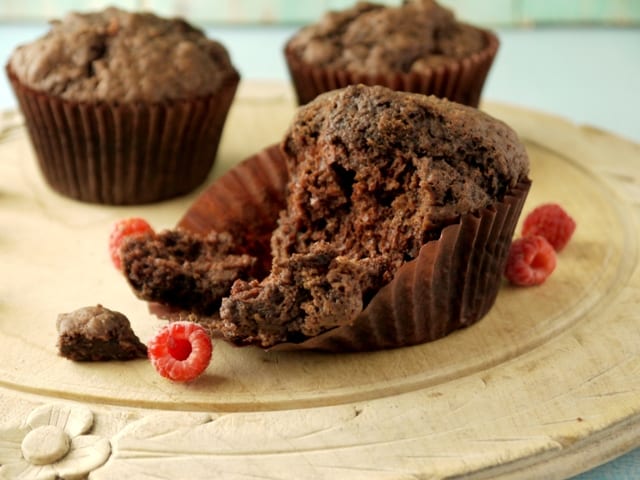 Jonny & I like chocolate muffins, however there is a window of about 12 hours that we enjoy a freshly baked batch. After that they become dry and crumby, and not the moist decadent treat we were after.
Sadly, as I have baked many, many, many batches of them over the years, and we are clearly very predictable, this generally leads to us trying to stuff down as many as possible before they go stale.
Not so great for the waistline.
However, with our raspberry bushes overflowing with small but super sweet fruit, I chucked a load in a muffin mix today. May I say, it was a moment of raw genius on my part.
Admittedly, the 12th muffin from the pan didn't see the end of day 3 (hey, give us time to adapt!) but it was still moist and juicy, with an angelic decadence.
It was a winner.
Please be sure to rush out and make yourself a batch, and don't forget to let me know what you think.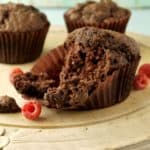 Dark Chocolate, Raspberry and Rum Muffins
Servings
:
12
muffins. More if you make cupcakes.
Ingredients
Dry Mix
255

g

plain flour

110

g

sugar

5

tablespoons

plain

unsweetened cocoa powder

1/2

teaspoon

salt

1/2

teaspoon

bicarb of soda

baking soda

2

teaspoons

baking powder

100

g

bar of dark chocolate

chopped
Wet Mix
225

ml

water or milk

90

ml

vegetable oil

30

ml

dark rum

110

g

fresh

defrosted or drained raspberries

1

egg
Instructions
Preheat the oven to 190/375/gas 5. Line a muffin tray with paper cases, or if using a cupcake tray & liners, get about one and a half trays ready.

Sieve all the dry ingredients together in a large bowl, adding the chunks of chocolate in last.

Measure the wet mix out in a jug.

Pour the wet into the dry and stir briefly, just enough to get rid of any dry patches of mix. Over stirring will create dense, rubbery muffins.

Scoop into the paper cases and bake for 20-25 minutes, or until the top springs back when gently pressed or a skewer comes out clean. If you are using a cupcake tray & cases, they will need less time to cook.

Pop onto a cooling rack until cool enough to munch :)