So, the Cornwall RV was fantastic. The weather was perfect, a bit chilly at night, but just perfect during the day. I met so many old friends and tonnes of new ones too.
This is Jon & I at Blacksmithery Corner. It didn't go so well for either of us this time to be honest. I really couldn't decide what I wanted to make which kinda left me scuppered really. I ended up making a pendant in the shape of a leaf which I will get a photo of for you soon. The lovely Tristan also gave me a stunning coat hook with a leaf design which I do believe my mother has nabbed.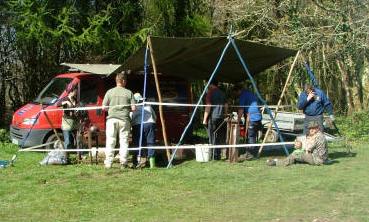 Jon wanted to make another knife (bit like girls & shoes is Jon with his shiny's) and he was trying to weld a piece of steel to a piece of mushed chainsaw chain (I know you can't picture what on earth I mean but I don't know how else to describe it, sorry). Anyways, long story short, it wouldn't weld together so tristan helped him out he came away with a steel stick tang knife blade that he will handle up soon.
The Easter Egg hunt was a blast – mind you how could it not be with 20 kids trying to find free chocolate?! And the firelighting lesson I gave was, well, amateur to say the least and although I fluffed it several times the kids didnt care cos they all managed to light a candle with one of these things and a piece of cotton wool! That was a good feeling, they were so excited!!

Now onto the underblanket testing…
We were out for 4 nights, The first 2 weren't great cos even tho I'd filled my boots with beer and/or wine I just couldn't sleep for being a few degrees chilly. Not shiveringly teeth chattering chilly, just chilly enough to lie there contemplating getting up to find more clothes (why, oh why didn't I?) To be fair I was in an arctic sleeping bag, wearing arctic issue woolen socks fully clothed but it was ruddy cold at night.
Without the underblanket I would have been gibbering, so from that respect it served its purpose beautifully. Once I'd got my act together and clambered into the hammock cocooned in fleece tops & bottoms and had my feet end of the sleeping bag inside in my thick woolen Swandri, I slept like a baby. Actually on Saturday night I slept for 10 hours straight!
One of the weekend highlights for me was meeting Andy & Lou and their clan, what a wonderful family. They run the website Spirit of Old (link below) which sells beautiful hand carved pagan pendants, they are well worth a look.
Anyways, their youngest lad is a really cool little dude named Finn, who I believe is almost 4. Finn was very wary of me at first, so much so that he turned all shy whenever I got close. On the final day, just before we packed up, Lou coaxed Finn into trying out laying in a hammock… my hammock. Look at his face, he loved it so much that his Dad had to rush and buy the very last hammock for him so it could be hung up in his bedroom when they got home!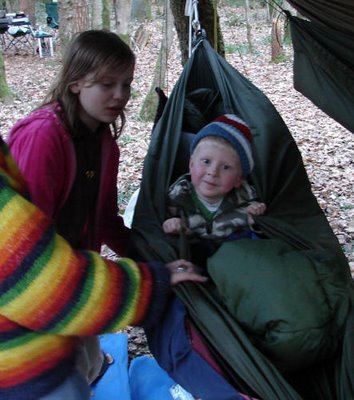 So there we have it, Easter has come and gone yet again. Roll on next year!!