This decadent Cinnamon Brioche Toast makes a truly special start to the day, and it only take minutes to whip up and serve.

Brioche, or cakey bread as it's affectionately known as in our house, is one of the many French bakery exports that we would be hard pushed to live without. Its texture is light-as-a-feather and it makes the most delicious light toast with butter and homemade raspberry jam.
Now imagine that soft sweet crumb with a crispy, buttery, cinnamon-y topping that is all crusty and caramelised around the edges. Yup, I'm drooling at the thought of it too!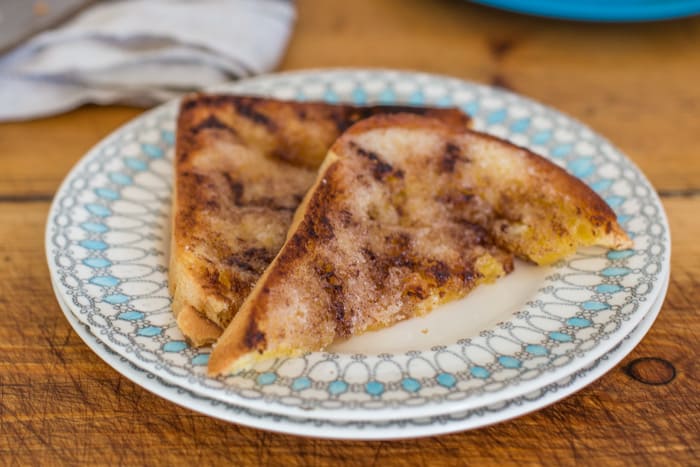 And whilst my cinnamon brioche toast may not exactly be classed as a health food, some mornings are special enough to warrant an extra special (and slightly naughty) breakfast.
For example Jonny has been working on my van in the freezing cold all morning. He's building shelves and kitchen doors which is a bit above and beyond on a Sunday morning. So as a thank you I made him this big batch of cinnamon brioche toast and a huge pot of black coffee.
I think he's enjoying the #sharethemoment campaign from Pasquier as much me :)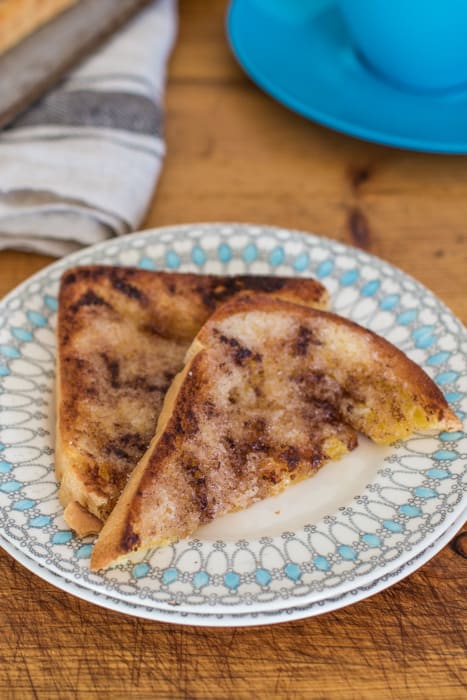 It's most common to see brioche in round bobbly loaves, which whilst are very pretty aren't the most practical in a busy kitchen. So I was delighted to find these loaves of sliced brioche from Pasquier. They are perfect for making this cinnamon brioche toast and ideal to take camping.
Please let me know if you give this recipe a go and feel free to tag me in any pics you share across social media – I can generally be found as @hedgecomber :)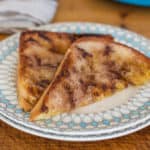 Cinnamon Brioche Toast
Ingredients
2

slices

of brioche per person

Salted butter

Sugar

Cinnamon
Instructions
Preheat the grill.

Grill one one side of the toast, then flip over and spread the softened butter generously onto the ungrilled side.

Sprinkle with plenty of sugar and cinnamon then pop back under the grill.

Keep a close eye on your toast and pull it out when the sugar is bubbling and the edges of the toast are dark brown - this should only take a couple of minutes depending on how hot your grill is.

Dive in and enjoy this crazy special breakfast.
Nutrition Facts
Cinnamon Brioche Toast
Amount Per Serving
Calories 300
Calories from Fat 144
% Daily Value*
Fat 16g25%
Cholesterol 119mg40%
Sodium 319mg14%
Carbohydrates 31g10%
Protein 7g14%
Vitamin A 600IU12%
Calcium 40mg4%
Iron 0.7mg4%
* Percent Daily Values are based on a 2000 calorie diet.
Huge thanks to Pasquier for sponsoring this yummy recipe, and allowing me to continue bringing you tasty content, for free. As always all thoughts (and leftovers!) are my own.
Janie x