These chocolate pretzels are super easy to make, taste great, and make a really cheap and cheerful gift for a friend or neighbour!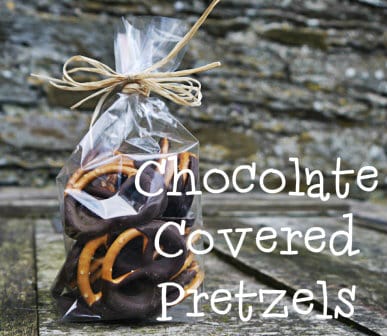 If you are from, or have indeed spent any time in the US, please ignore this post and go do something more interesting instead.
This is written for all those other Brits who, like me, had no idea that such a delicacy existed.
Eureka moment #1 happened when my best friend Lizzy, brought me back a packet of giant pretzels dunked in dark chocolate from a trip to New York.
Jeesh! Where had they been all my life??! That crunchy, salty, sweet thing that went on in my mouth, was truly a taste sensation! I have since hunted high and low for them in the UK alas, to no avail.
Until I had Eureka moment #2 – how hard could it be to dunk some myself?! (I know, I know, my thought processes are obviously a little slower than everyone else's right?)
So I bring my UK readers virginal tastebuds, a little snippet of loveliness. Enjoy!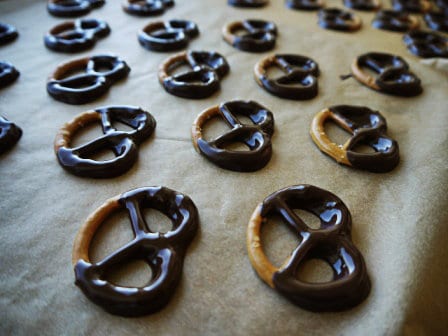 Chocolate Covered Pretzels
1/ Melt a bar of good quality *dark chocolate in a bain marie (or in a bowl over a pan of hot water)
2/ Dunk pretzel in said chocolate, shaking/scraping off excess drips
3/ Let cool on a flat surface covered in baking parchment
When the chocolate has cooled and hardened, bag up or just sit and scoff the lot. I won't tell anyone :)
*I guess there's nothing stopping you using any kind of chocolate, but to me, dark chocolate & salt are a winning combo.