An earthy little twist on a classic, this Chanterelle Mushroom Tapenade is bursting with good flavours. It makes a mean paste that can be used on everything from hot toast to roast chicken. De.Lic.Ious.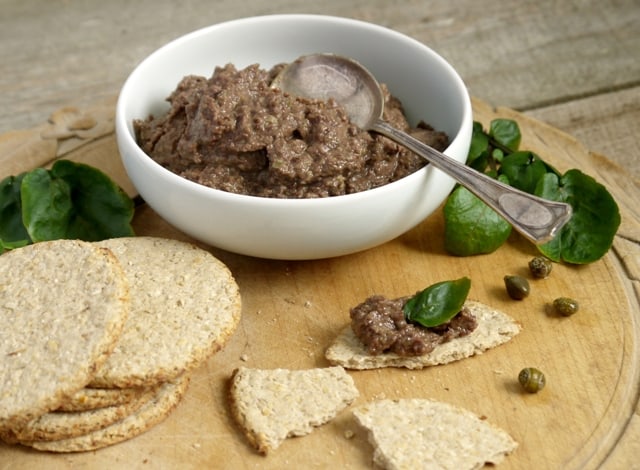 Traditional tapenade hails from southern France and is generally a mix of olives (most commonly, but not exclusively, black olives), capers, olive oil, anchovies and garlic. Adding mushrooms is definitely a non traditional adornment that'll probably get me shot down in flames, but I don't care. It tastes goooood.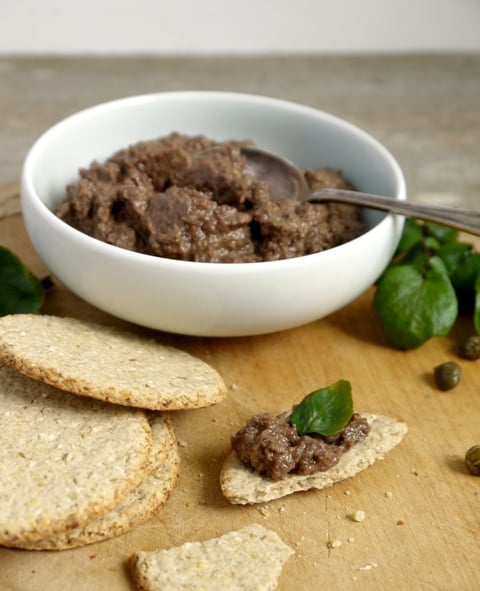 As always, avoid washing the mushrooms as they'll soak up the water and turn to mush. Fungi foragers tend to carry little brushes with them to dislodge any grit or debris, but I get by quite happily using a bit of kitchen paper to clean them. Make sure you do check each one over though, as the idea of chewing on a bit of grit is faintly barbaric.
And hang fire on adding any olive oil to the blender until you have whizzed the other ingredients up. You may find you don't need to add any, as the mushrooms naturally contain a little juice and you don't want the tapenade too wet.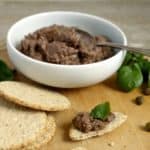 Chanterelle Mushroom Tapenade
Ingredients
A little oil or butter

100

g

chanterelle mushrooms

cleaned

300

g

olives

stoned

2

heaped teaspoons capers

2

garlic cloves
Instructions
Heat the oil or butter until very hot then fry the mushrooms until they have picked up a little colour & are slightly crispy around the edges. Remove from heat and drain on kitchen paper.

Pop all the ingredients Into a blender, and mix until a coarse or smooth paste, depending on what you fancy.

At this point have a little taste. If it tastes bland, add more anchovies, if too salty, add more capers, and if it is too dry add a little olive oil.
Many thanks to Smithy Mushrooms for the Chanterelles, they were delicious!