This Cadburys Creme Egg Ice Cream Sundae elevates the humble chocolate egg into a crazily decadent Easter treat. Enjoy!
OK, clearly this isn't a dessert I could even begin to indulge in. Vanilla ice cream & milk chocolate are like a double nemesis whammy, however I couldn't let the annual creme egg invasion pass by without treating Jonny to this Cadburys creme egg ice cream sundae extravaganza, that I'm pretty sure was going to knock his socks off.
If you aren't lactosely challenged and you fancy a super-duper Easterly themed old-school ice cream sundae, then you my friends have come to the right place!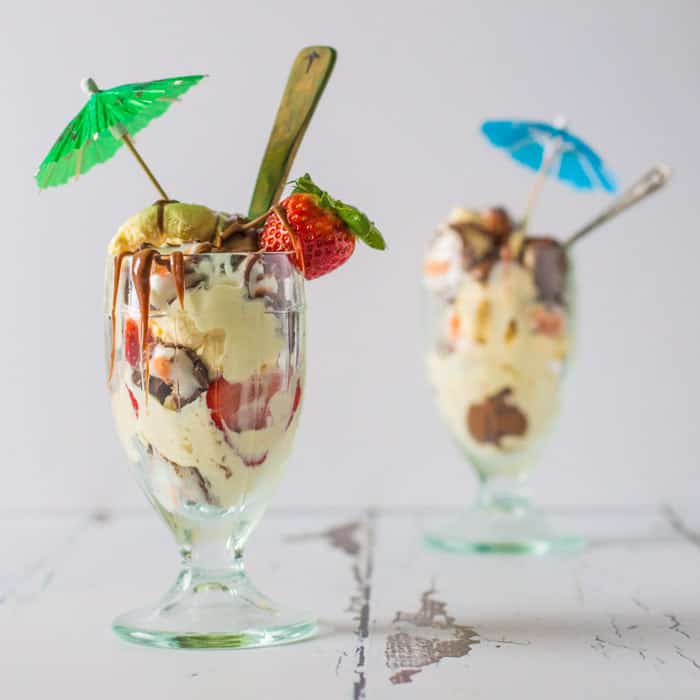 Obviously feel free to use whatever ice cream flavour you fancy. I went with a quality vanilla to balance out the chocolateyness and sweetness of the eggs. However for anyone under the age of 16 I'm guessing that over-sweetness won't be an issue so dig out the double choc, honeycomb or cookies & cream!
And if you're in a hurry you don't have to freeze the eggs first but they'll be easier to cut up (and clean up) if you do.
Not enough of a treat going on in this sundae for you? Why not add in some Smarties, Maltesers or broken up honeycomb, just to really test those blood sugar levels! Or in true Pinterest style, set up an ice cream sundae bar with various flavours of ice cream and sweets for everyone to pile in and make their own bespoke concoction.
If you're doing this for a kids birthday party I would recommend doing this just before you send the little darlings home to their parents as a group of kids this wired would be enough to test the patience of a saint ;)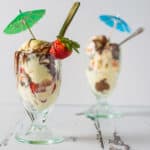 Cadburys Creme Egg Sundae
Ingredients
3

Cadburys Creme Eggs

2 of which are frozen

Quality vanilla ice cream

Strawberrys
Instructions
In a bain marie (or small pan over a bigger pan of simmering water) melt 1 of the eggs along with a tablespoon of golden syrup. No you don't need the extra sweetness but it will help the egg to melt fully.

Chop the other 2 eggs into quarters and layer them up with the ice cream and strawberries.

Drizzle the melted egg over the top of the sundae and serve.
Need more Creme-Egg-spiration? Check out these bakes from my favourite bloggy buddies…
Creme Egg, Peanut Butter and Nutella Cake with Nutella Icing from Bintu over at Recipes From a Pantry.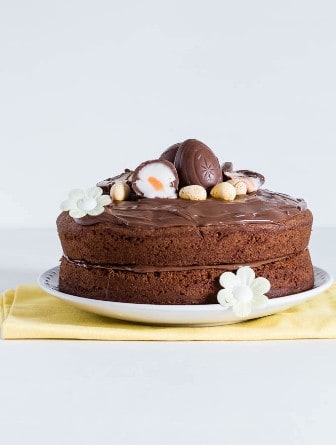 And these decadently moreish looking Cadburys Creme Egg Pancakes from Claire, aka Foodie Quine.