I can't tell you how happy I am to finally make this Beef, Guinness and Mustard Pie. It has been in my head for weeks, ever since the weather started getting cooler and the slow cooker got dusted off.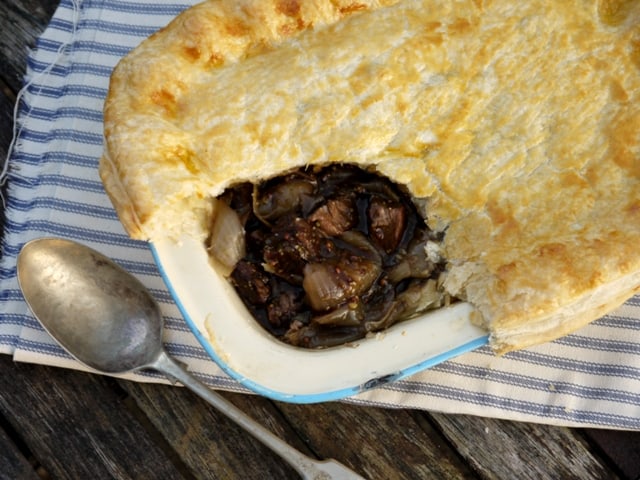 The bottle of Guinness has been in the cupboard for at least a month, waiting for a day of few demands to coincide with me being organised enough to have defrosted the beef.
Beef and Guinness are such a classic combination of flavours. Deep, rich, earthy stout with sweet, juicy, fall apart tender beef. Just the thought of it makes my tummy leap in anticipation.
Plump for a cut of beef that is well marbled with fat and even sinews. Whilst this may sound hideous, after a few hours in the slow cooker, all these horrid looking things will have disappeared (I promise!) and in their wake you will have enriched the gravy to utter perfection and kept the meat deliciously moist and silky in texture.
Happily, well marbled stewing beef will also be one of the cheapest cuts you can find.
If you need to stretch the meat out to feed more mouths, add in small whole button mushrooms and/or chunks of carrot to the last hour or two of slow cooking. Stretch it even further by adding cubes of a waxy variety of potato to the pie filling too. I don't see why you couldn't do this and still serve it with mashed potatoes on the side.
You could in theory, double the serving size just by adding these extras. The gravy is definitely flavourful enough to cover the added ingredients, just make/buy extra pastry if you are bulking it out by much.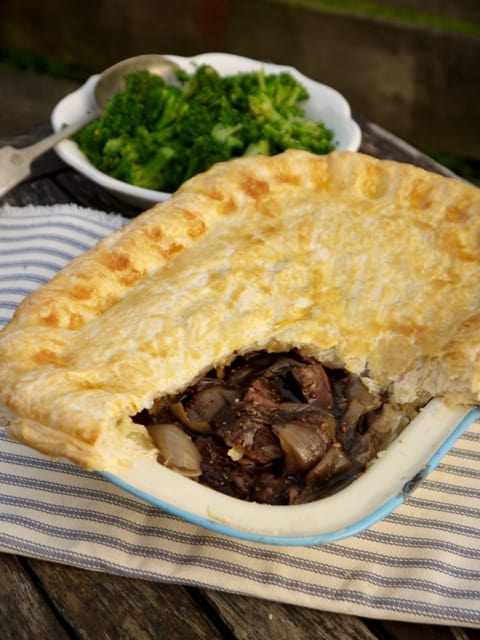 The stewing beef was cut into thick chunks, an inch or so across. I don't know why but little pieces of meat just look mean to me in pies. Great big cubes seem to hold the moisture and the sauce better and look rather decadent all at the same time. And after searing all that beef, my house smelt delectable!
I love making pies a bit special by using shortcrust as the base, and puff pastry as the lid. However, using shortcrust for both is absolutely fine, whilst being easier & cheaper. Just substitute it in the recipe. Feel free to make your own, or choose the lazy option like me and buy it ready made and ready rolled! :)
If you take the time to make this Beef, Guinness and Mustard Pie I'm pretty sure your guests will be suitably impressed.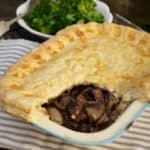 Beef, Guinness & Mustard Pie
Ingredients
The Filling
650

g

stewing beef

300

g

onions

500

ml

Guinness

1

beef stock cube

1

heaped teaspoon garlic puree or 5 crushed cloves of fresh garlic

1

heaped tablespoon wholegrain mustard

1/2

teaspoon

black pepper

Salt to taste

if necessary

1

teaspoon

cornflour

mixed with a little cold water
The Pie
300

g

shortcrust pastry

300

g

puff pastry
Instructions
Beef & Guinness Pie Filling
Chop the meat into 2-3 cm cubes.

Heat a frying pan until very hot & sear the meat on all sides to colour the beef. (If you haven't seared meat before, pop the cubes of beef in the really hot pan and wait. After 1-2 minutes, the meat will unstick itself from the pan and have charred slightly, turn it over & repeat all over).

Add to the slow cooker along with the onions.

Pour some of the Guinness into the pan and using a fork or whisk, deglaze the pan (fancy word for scraping up & not letting go to waste all those yummy brown and black bits of meat & juices that are stuck to the pan after searing the meat) and pour all into the slow cooker.

Pour in the rest of the Guinness and cook on high for 4+ hours or low for 8+ hours on high.

Halfway through (or at least an hour from the end of the cooking time) add in the garlic, crumbled stock cube, mustard and black pepper. Personally I'd wait until the end of cooking to taste whether you need to add salt as the stock cube will contain a lot, but we are rather sparing with salt in cooking. Watching TV chefs, I'm sure they'd add salt at every stage.

When the meat is fall apart tender, switch off the slow cooker and pour all the scrummy gravy off into a smallish saucepan. Bring to the boil and keep boiling until it has reduced by half. Reduce the heat, add the cornflour that has already been mixed with cold water and stir until the gravy has thickened beautifully. If you have stretched the pie filling by adding mushrooms &/or potatoes, you may want a little more gravy than if you stick to the recipe. In this case, reduce only a little and thicken it by adding more than 1 teaspoon of cornflour (always mix it with cold water before adding to stop the sauce from going lumpy)
Assembling the pie
Line a pie tin with the shortcrust pastry, leaving a good amount around the edge for the lid to stick to.

If you're a pro, you'll wait for the meat & the gravy to cool before adding to the dish, if you're like me you'll bung it all in hot and throw straight into a hot oven. Try not to fill it with a hot filling and let it sit around for long.

Egg wash the edges of the pastry and add the filling and the gravy.

Pop on the pie lid, crimp and egg wash the top and bake in the oven for 20 -30 minutes or until the filling is piping hot and the pastry is golden brown & cooked through.

Serve with mash, peas and broccoli and enjoy x