A delightful earthy soup that is rich and creamy yet still virtuously light on the digestive system.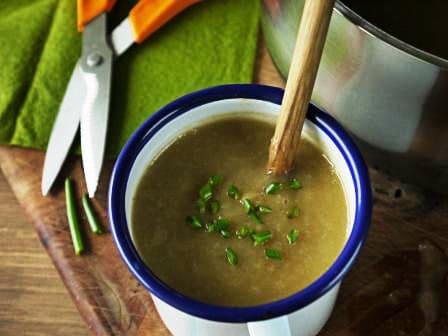 Serve with a great big chunk of fresh bread topped with a great big dollop of butter just to balance things up a bit.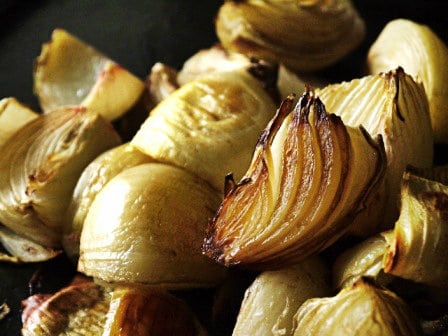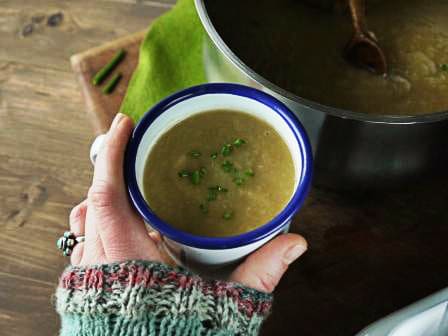 Superfood Soups – Balsamic Roast Onion
Ingredients
700

g

onions

quartered

850

ml

water

water & stock cube or stock

1

medium potato

peeled & diced

Balsamic vinegar

Oil

dripping or butter

½

teaspoon

salt
Instructions
Peel & chop onions into quarters. Pop in a roasting tin and brush with the melted butter or oil, then splash with the Balsamic vinegar. I probably used a couple of tablespoons of it over the onions (don't worry if you haven't cooked with this stuff before, your soup won't taste vinegary - I promise!)

Roast gently, at about Gas 2/150c/300f for an hour to an hour & a half.

The onions want to be juicy & browned, but not burnt. Cover with foil halfway through if they are looking too well done.

Meanwhile, cook the chopped potato in the water or stock, keeping a lid on to prevent the stock steaming off.

When the potato is soft and the onions are juicy, mix together in the saucepan & blitz with a stick blender, or let cool a little and tip into a jug blender. Whizz till fine and smooth.

Season with the salt, and a pinch of chilli powder wouldn't hurt if you needed extra warming up.
Shared with; Wildcrafting Wednesday, Homestead Barn Hop