Welcome to my Idiot's Guide To Dry Curing Streaky Bacon, Lardons and Pancetta! Keep reading to find out everything you ever needed to know about curing pork…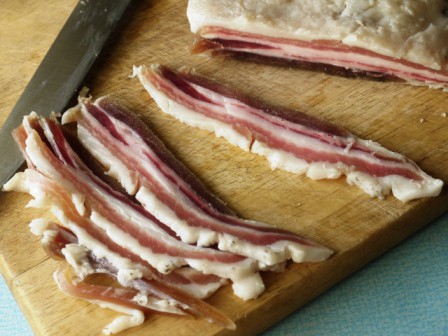 After cleaning out the freezers last weekend, I decided to finally tackle a job I've been putting off for months. Making bacon.
I defrosted a great chunk of belly pork and started researching the (I assumed) tricky task of curing. I'm not sure why I've been so intimidated by this process. It all seems a bit silly now. There are some curing methods and ingredients that I didn't have on hand, so I went the absolute simplest route and just used a basic 50/50 salt & sugar mix.
I cut the skin from the slab of belly meat although it seems most people leave it on. To be honest, the main reason I removed it was the nipples. No idea why rubbing a mound of cure mix into a slab of pig nipples freaked me out so much, but it did. They had to go.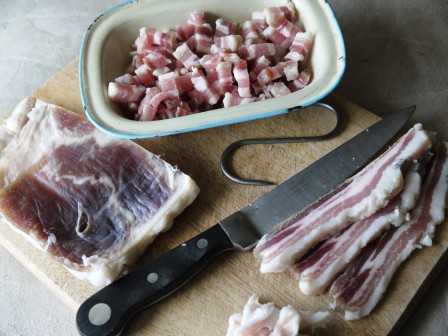 I rubbed said cure mix into some lovely (nippleless) belly pork, making sure I smooshed it into every little nook and cranny of the meat and fat. No part of belly was left naked. Is this becoming x-rated? Anyway, I left this cure rubbed belly in a glass baking dish in the bottom of the fridge for a week or so (actually it was longer as I forgot it, say maybe 9 or 10 days in total) rinsed all the brine away – it was amazing how much water had leached out of the meat in this time – and rinsed the whole thing under lots of cold water, rubbing well to remove the salt.
I then dried it well with kitchen paper, threaded a butchers hook through one corner and hung it in my (unheated) kitchen on a pot hanger for 2 days (if you are daft enough to be using this as your guide to curing your own bacon, protect with a pillowcase or similar if it is fly season where you live).
Not so intimidating after all it seems.
As I don't have a meat slicer, I carefully sliced off a few rashers of my now streaky bacon. Jonny fried them for me and made me a killer bacon butty. There is a great sense of pride in growing & storing your own food, and finding yet another awesome use for it. It was a little too salty, but there was also a sweetness I have only tasted in quality bacon.
According to master of all things dead, Billy at the Kill and Cure blog, you can use the same 'recipe' time after time and always get different results. Not sure I find that too comforting really.
For bacon sarnies, I would prefer it to be a little less salty. The rest was chopped up into little Lardons or Pancetta. I'll be freezing them for now, and saving them for a little camping recipe I'm eager to share with you all on our first camping trip of the year this Easter.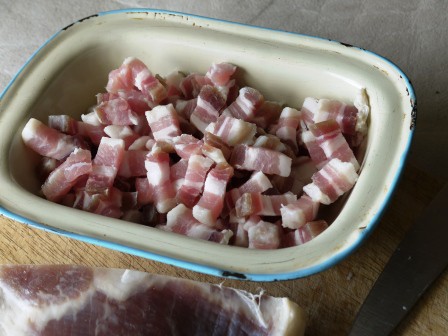 Piggies. The critter that keeps on giving :)